Direware SOLO Recurve Non-Flipper, Heat Colored Textured Titanium Frame-Lock (SOLD)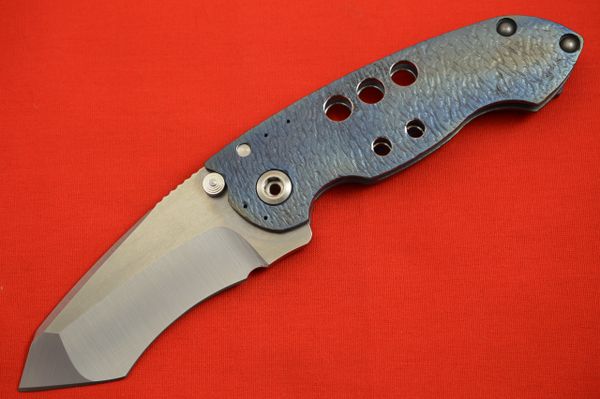 Direware SOLO Recurve Non-Flipper, Heat Colored Textured Titanium Frame-Lock (SOLD)
Direware Custom Knives are some of the finest, overbuilt tactical folders.  They are built like a tank, yet display outstanding fit and finish, and flawless performance.  The flipping action is smooth as silk, they lock up like a bank vault, and the frame-lock is easy to release.  Direware uses only the best materials, superior engineering methods, and have gone through extensive testing by a former special operations team member.  Windy City Knives is privileged to be an authorized dealer for Direware.
This is a rather rare frame-lock SOLO non-flipper, or what I call a "flicker".  Even without the aid of a flipper tab, when using only the thumbstud, the blade flies out of the handle with just a "flick" of your thumb.  It features a full titanium textured frame with hole pattern, that is heat colored and anodized on both sides of the handle.  This is the newest iteration of the SOLO - it has an "open" pivot.  The compound ground recurve blade is S110V stainless steel with a satin finish, and tumbled flats.  There are two (2) barrel-type (hour glass shaped) satin finished titanium standoffs.  The blade flicks smoothly, locks-up tight, exhibits excellent detent, and the blade is seated dead center when closed.  The knife comes in the original box provided by Direware, and includes the mesh sleeve for storage / protection.
Condition:  New from Maker.
•           Overall length:  9"
•           Blade length:    3 3/4"
•           Closed length:  5 1/4"