Dwaine Carrillo Cobra M6 Prototype, Button-Lock, African Padauk (SOLD)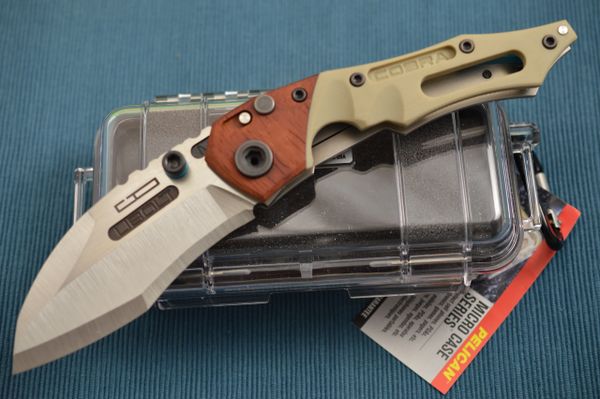 Dwaine Carrillo Cobra M6 Prototype, Button-Lock, African Padauk (SOLD)
Dwaine Carrillo did a special limited number run of these COBRA folders, with the presentation side having an African Padauk red wood bolster, and a Desert Tan G10 scale.  There were only six (6) of these knives done in this configuration.  This one, however, is #0, the PROTOTYPE, as marked on the backspacer.  This knife is in Brand New condition, just as it was received directly from Dwaine.  I have held this one in inventory since receiving it, and only recently decided to let it go.  The knife features his UBOLT button-lock mechanism.  Dwaine had discontinued his frame-lock folders in favor of this new button-lock design.  Dwaine felt that this new lock will hold up better, and eliminate the "lock stick" that sometimes occurs with frame-locks, and tends to get worse over time as the lock wears.  The button-lock is a very secure lock, and we think it adds a "cool" factor to his folders.  This knife is a rare, collectible piece, marked with the number "0" on the backspacer.  The blade is CPM 154 steel, and the pocket clip is blue and gold anodized.  The 2-piece backspacer, thumbstud standoffs and pocket clip standoffs, are all anodized a bluish-green color.  This knife also features an over-sized pivot, satin finished titanium frame, and notched thumb-rest.  It has rock solid lockup, and excellent blade-seating.  This is a heavy duty, overbuilt folder, true to Dwaine's style.  As with all the knives that came direct from Dwaine's shop, it includes a Pelican hard case.

Condition:  Brand New from Maker

Overall length:   10"

Blade length:     4 1/4"

Closed length:   6"