Dwaine Carrillo Damascus M5 Scout, Black G-10 (SOLD)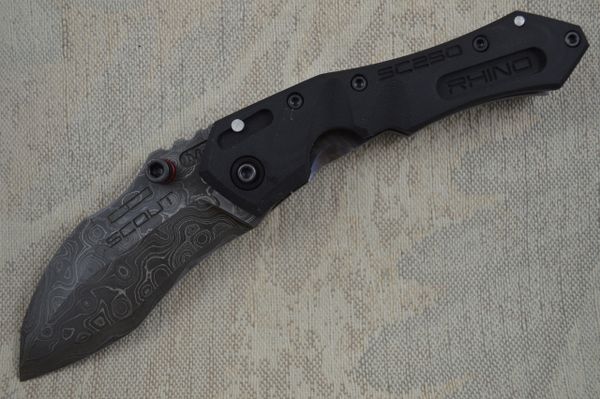 Dwaine Carrillo Damascus M5 Scout, Black G-10 (SOLD)
This is Dwaine Carrillo's Damascus M5 Scout framelock folder. It features a 1/4" thick Alabama "Buckshot" Damascus blade, and a Black G-10 grip. It has a blue and gold anodized titanium clip set for tip-up carry, and an anodized titanium frame. It also features a notched thumb-rest, and red thumb-stud and pocket clip spacers. It has great detent, rock solid lockup, and excellent blade-seating. This is a heavy duty folder, true to Dwaine's style. It is BRAND NEW. Just received from Dwaine's shop in Oklahoma City. As with all the knives that come direct from Dwaine's shop, it comes in a Pelican hard case.

Condition: Brand New from Maker

Overall length: 9 7/8"

Blade length: 4 1/4"

Closed length: 5 7/8"