Dwaine Carrillo M6 Cobra, Double Titanium Frame, Alabama Damascus Blade (TRADED)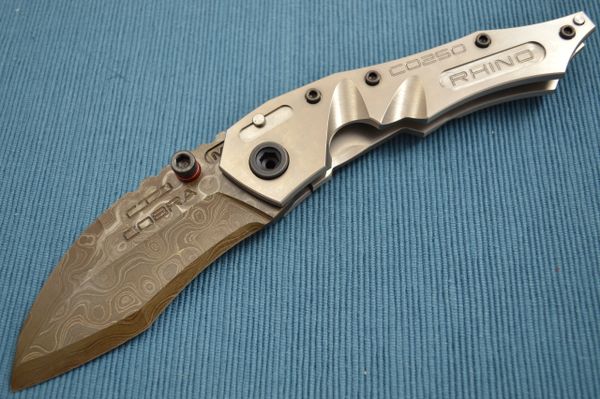 Dwaine Carrillo M6 Cobra, Double Titanium Frame, Alabama Damascus Blade (TRADED)
This is Dwaine Carrillo's Damascus M6 Cobra frame-lock folder. It is brand new, direct from Dwaine's shop in Oklahoma City, and one of the very last frame-lock, full titanium, Damascus knives he made. This one is super rare, and very collectible. It features a 1/4" thick Alabama "Buckshot" Damascus blade, and Titanium on both the presentation side and lock side. It has a blue and gold anodized titanium clip set for tip-up carry. It also features a notched thumb-rest, and red thumb-stud and pocket clip spacers. It has a rock solid lockup. This is a heavy duty folder, true to Dwaine's style. As with all the knives that come direct from Dwaine's shop, it comes in a Pelican hard case.

Condition: Brand New from Maker

Overall length: 10 1/8"

Blade length: 4 1/4"

Closed length: 6"