E. Scott McGhee J.S. "EZ RIDER" Tactical Fixed Blade, Leather Sheath (SOLD)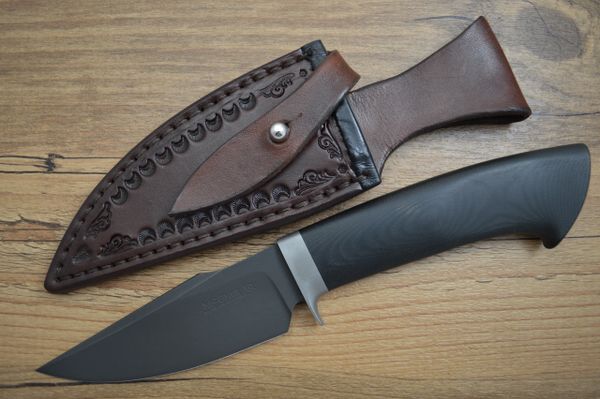 E. Scott McGhee J.S. "EZ RIDER" Tactical Fixed Blade, Leather Sheath (SOLD)
E. Scott McGhee of GUINEA HOG FORGE handcrafts products that are both beautiful and functional. He specializes in creating high quality knives out of carbon tool steel and high quality stainless steels. All of his hand-forged knives are heat treated, tempered and tested in house to guarantee an extremely durable work of art capable of holding an edge that most production blades simply cannot match. Scott is a blacksmith as well as an ABS Journeyman Smith and enjoys forging historic kitchen items, tools and unique creations when not making knives.
The EZ Rider is one of Scott's forged fixed blade models, made from high carbon steel with a blacked-out finish. This knife is marked with Scott's J.S. (Journeyman Smith) stamp. The handle is made of Black micarta, with a nice slim profile, making it easy to carry and handle. It comes with a leather sheath made by Scott. This is a solidly built knife, ready for whatever you throw at it.
Condition: Previously owned. Mint.

Never used, carried or sharpened

Overall length: 9 3/4"
Blade length: 4 1/2"