E. Scott McGhee M.S. "Rover" Bushcraft Style Fixed Blade, Leather Sheath (SOLD)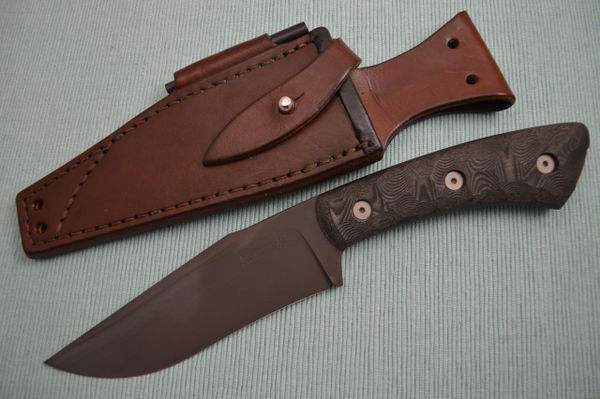 E. Scott McGhee M.S. "Rover" Bushcraft Style Fixed Blade, Leather Sheath (SOLD)
E. Scott McGhee of GUINEA HOG FORGE handcrafts products that are both beautiful and functional. He specializes in creating high quality knives out of carbon tool steel and high quality stainless steels. All of his hand-forged knives are heat treated, tempered and tested in house to guarantee an extremely durable work of art capable of holding an edge that most production blades simply cannot match. Scott is a blacksmith as well as an ABS Master Smith and enjoys forging historic kitchen items, tools and unique creations when not making knives.
The Rover is one of Scott's stock removal fixed blade knives made from O1 tool steel with a black parkerized finish and full tang construction. The handle is made of sculpted Black Micarta. The Rover is a bushcraft style knife, and comes with a special leather sheath made by Scott, that incorporates a ferro rod, multiple tie-down points, and fire striker at the butt that works well with the ferro rod (and can also serve as a bottle opener). This knife has had one owner, a friend, who has admired it and kept it in his safe since new. There are faint sheath marks on the blade (not uncommon with a parkerized finish), from insertion and removal. This is a rugged, solidly built knife ready for the field, campsite, or whatever you throw at it.
Condition:
Previously owned. New Condition.
Never used, carried, or sharpened
Overall length: 10 3/4"

Blade length: 5 1/2"

Handle length: 5 1/4"