Early Gil Hibben 16.5" Manti Utah Bowie Knife (SOLD)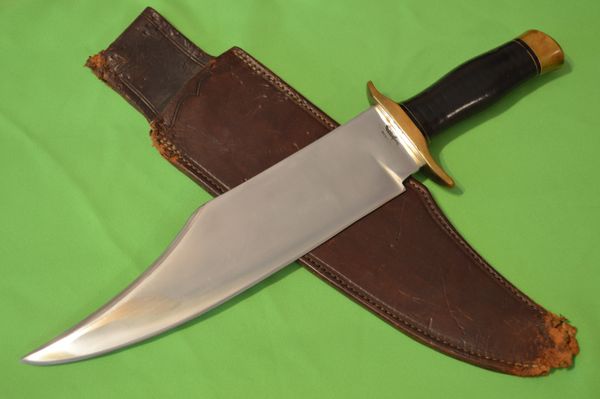 Early Gil Hibben 16.5" Manti Utah Bowie Knife (SOLD)
Gil Hibben owns and runs Hibben Knives in LaGrange, KY.  Gil has been a full-time custom knifemaker since 1957.  He makes few handmade custom knives each year, primarily for customer orders.  If you are lucky enough, you may also find Gil's knives at select knife shows.  Over the years Gil's work has been featured in, and on the covers of, national gun and knife magazines.  He has established a whos-who following of collectors, from Hollywood icons to world leaders.  Gil Hibben designed the first line of Browning hunting knives in 1968, the American Kenpo Knife for Ed Parker, and the Rambo Knife for the films Rambo III and Rambo.  Gil not only is an accomplished knifemaker, he has been training in Kenpo karate for nearly 50 years and has earned a 6th degree black belt in the martial art having studied under Ed Parker, and 10th degree black belt Richard "Huk" Planas.  He also earned belts in Judo and Aikido.  Gil was inducted into the Martial Arts' Masters Hall of Fame in 2000 and the Action Martial Arts Magazine Hall of Fame in 2004.
This is one of Gil Hibben's early Bowies, dating back to 1965 -1970 based on the ricasso stamp, when he was making knives in Manti, Utah.  In 1964, while living in Salt Lake City, Utah, Gil started making knives from the relatively new 440C steel.  Although an industry standard now, Gil believes he was the first custom knife maker to use 440C.  I am guessing that this Bowie is highly polished 440C.  The clip (top edge) is moderately sharpened (not as sharp as the blade edge) for about 5" from the tip.  The handle is stacked leather.  The double guard is brass, as is the butt cap.  There are black spacers and a thin brass spacer, fore and aft of the leather handle.  Stamped on one side of the blade ricasso is "HIBBEN KNIVES" shaped like a Bowie knife, and "MANTI, UT" below it.  Stamped on the other side, on the flat of the guard, are the initials "J.T.O."  This may be the initials of the original owner.  Being a Vietnam War era knife, one can only speculate on the knife's history.  The knife came out of a private collection.  Overall, it is in excellent condition.  There are some micro scratches on the blade, and the brass has developed a patina.  I see no carbon spotting or pitting of the blade.  It appears to have never been used or sharpened.  The sheath condition adds to the mystery of the knife's history.  It appears to be heavily carried and worn.

Condition:  Previously owned. Excellent.
                    Never used, or sharpened.

Overall length:   16 1/2"
Blade length:     11 1/4"
Handle length:    5 1/4"
Blade Height:     2 1/2"
Weight:               29.8 ounces