Ed Martin Hollow Handle Survival Knife + Leather Sheath (SOLD)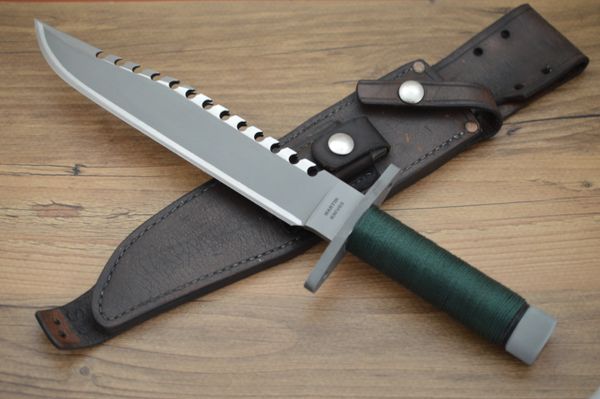 Ed Martin Hollow Handle Survival Knife + Leather Sheath (SOLD)
From the Ed Martin website…"If you appreciate high quality tools then you are at the right place.  You might be an experienced woodsman or a military professional.  Or, you might be just getting prepared for hiking or camping or hunting.  Heck, you might just like knives and like collecting something more useful than stamps. There is nothing like a top-quality hand-crafted knife when you need performance. When you purchase a Martin Knife you are purchasing a tool you can pass on to the next generation.  Every effort is made to put quality into every step.  If life catches you in a situation where dependability is a top priority, then you will want a knife that has this kind of time investment built into it."
This is Ed Martin's Survival Knife, reminiscent of Jimmy Lile's Rambo "The Mission" knife.  It features a bead blasted blade made from CPM 154 stainless steel, with satin finishes above the cutting edge and on sides of the saw teeth.  The clip point blade has been sharpened on the top at the tip.  There are a total of 12 saw teeth.  The 4 near the tip are single teeth and the remaining 8 are double teeth.   The knife is made using hidden tang construction.  The knife has a stainless steel guard with holes on either side for tiedowns, green cord wrapped hollow handle, and a removable aluminum butt cap with O-ring and compass.  Comes with an artificially aged brown leather sheath with sharpening stone.  The knife is previously owned and in excellent condition.  A few dark spots on the guard and some faint sheath marks on the blade.  In the interest of full disclosure, the knife is marked "07" and the sheath is marked "06".  I'll include a padded zippered case.

Condition:  Previously Owned. Excellent
                    Never used, carried or sharpened
Overall length:   14 1/2"

Blade length:      9 1/2"
Handle:               5"