Enrique Peña Custom DIESEL Jigged Bronze Titanium Frame-Lock Flipper (SOLD)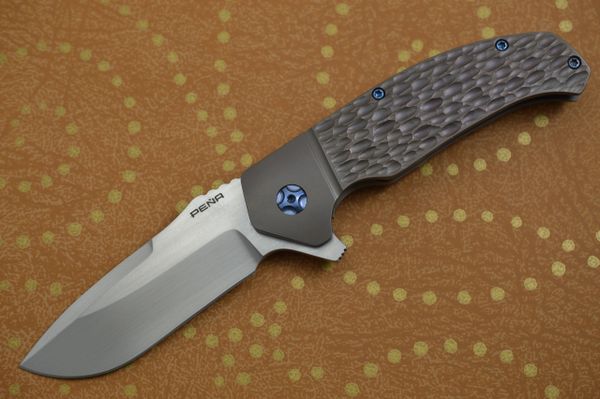 Enrique Peña Custom DIESEL Jigged Bronze Titanium Frame-Lock Flipper (SOLD)
Enrique Peña has been making knives since 2006,  He began his career strictly making traditional style folders.  He was a protege of Bill Ruple.  Now he has transitioned into the tactical knife arena, and done so in a big way, his knives are gaining a lot of traction and are becoming highly desirable to own and collect.  His precise fit, finish, selection of materials, appearance and design, are what defines a custom handmade knife.
The frame-lock Diesel is still one of the most outstanding custom knives available today.  It is a knife that every knife owner should have in his arsenal, to either use or collect.  Enrique is extremely skilled at his craft, and the action, ergonomics, fit and finish of his work are absolutely top shelf.  The blade is made from CPM-154, and done with a satin finish.  The frame is jigged, bronze anodized titanium, with a faux bolster.  The oversized pocket clip is also titanium, set for tip-up carry, and finished the same as the frame, anodized bronze.  There is jimping on both the flipper tab, as well as the blade spine, the latter providing great tactile feel and control of the knife.  The blade runs on bearings, and flips smooth, fast, and effortless.  The backspacer is milled anodized blue titanium, matching the blue anodized pivot and screws.  The blade exhibits excellent detent, rock solid lock-up, perfect blade centering, and an early lock-up with no lock-stick.  Comes in a padded, zippered storage case.
Condition:  Previously owned. Mint Condition
                  Never used, carried, or sharpened
Overall length:  8"

Blade length:    3 1/2"

Closed length:  4 1/2"