Enrique Pena Classic Remington 1123 Bullet Two-Blade Trapper Folding Knife (SOLD)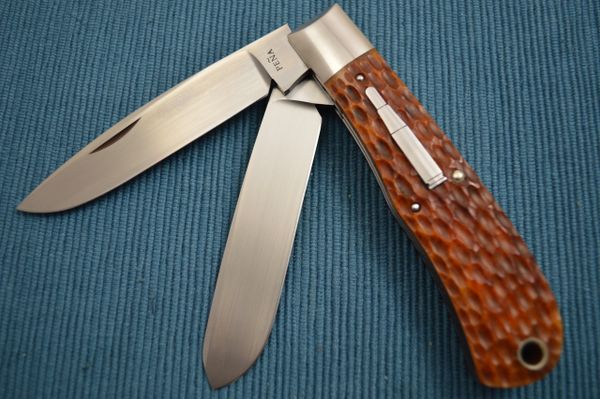 Enrique Pena Classic Remington 1123 Bullet Two-Blade Trapper Folding Knife (SOLD)
Enrique Pena was mentored by master of the slip-joint, Bill Ruple. He has apparently been an excellent student, because his knives demonstrate his talent and skill. The fit and finish, and attention to detail on his work is outstanding. According to Enrique..."My goal is to always be best at what i do. I strive to create unique knives. As you can see, I like to blend old styles with modern building techniques and modern materials. This is my full time job and I take great pride in what I do. I hope the people that support me by buying my knives, greatly enjoy them as much as I enjoy building them".
This large two-blade Classic Remington 1123 Bullet Knife is absolutely perfect. It features a drop point blade and a spey blade, both of CPM-154 stainless steel. Both blades have half stops. Both blades have ample nail nicks for a firm, yet easy and smooth pull. The scales are presentation grade brown Jigged Bone, with the classic Remington Bullet shield on the presentation side, pinned in 3 places, with a lined lanyard hole. The bolster and fittings are all 416 stainless steel, as are the liners. Both blades lock up tight with no play, and the blade seating of each is dead center in their respective liners. The fit and finish on this knife is second to none. Enrique has definitely mastered the "walk-and-talk". This knife was purchased from the original owner, and it is in absolutely brand new, mint condition. Comes in a padded, zippered case.
Condition: Previously owned. New, Mint.
Never used, carried or sharpened.
Overall length: 8 1/8"

Blade length: 3 3/4" (both blades)

Closed length: 4 3/8"