Enrique Pena "Lanny's Clip Flipper", Anodized Bronze Carved Titanium Frame (SOLD)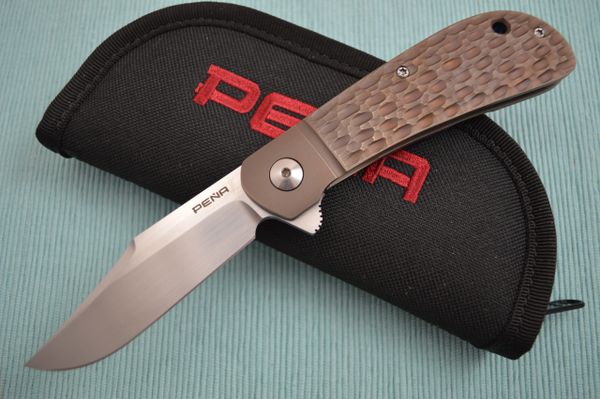 Enrique Pena "Lanny's Clip Flipper", Anodized Bronze Carved Titanium Frame (SOLD)
This knife is Brand New and Direct from Enrique Pena at the Blade Show 2016. This is one of Enrique's most innovative designs. Enrique has taken the traditional Lanny's Clip slip-joint folder, and turned it into a Frame-Lock Flipper! This is one of the coolest knives you will find. Don't let this hybrid fool you. It is a no-nonsense "tactical" flipper. Why didn't someone think of this sooner? Enrique has not built many of these, in fact, he only had two available at his table at the show. The blade is CPM 154 with a satin finish. The frame is anodized bronze titanium, fluted and carved to give it a jigged bone look. The jigging also gives it a very positive grip. He has left part of the frame "un-carved" to give the knife a "bolster". It also has a matching anodized bronze titanium clip, set for tip-up carry. There is a file-worked titanium back-spacer running the entire length of the spine, which he has anodized blue. The blade runs on washers, and flips effortlessly - no wrist movement - great detent, solid lock-up and excellent blade seating. This is a great knife from Enrique. Clearly one of his more unique and desirable works, that exhibits the fit, finish and workmanship he has become known for. Comes in a Pena padded, zippered case provided by the maker.
Condition: Brand New From Maker.
• Overall length: 7 1/2"
• Blade length: 3 1/4"
• Closed length: 4 1/4"