Ernie Emerson Custom Bolstered CQC-7B "Waveless" Specwar, Blade Show 2018 (SOLD)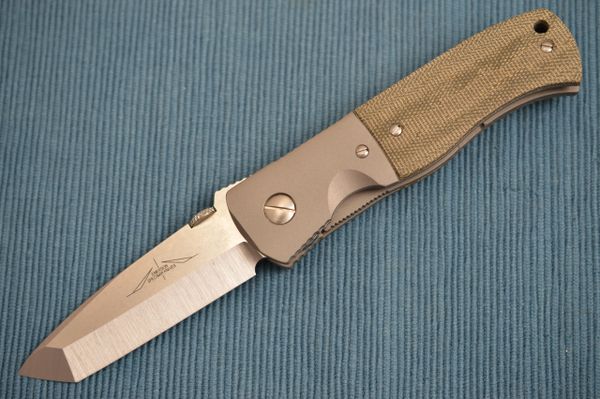 Ernie Emerson Custom Bolstered CQC-7B "Waveless" Specwar, Blade Show 2018 (SOLD)
The Emerson CQC-7 is very similar in design to the CQC-6, with a slightly larger blade, and a more useful handle. The handle has both a palm swell, and a parrot beak at the butt of the handle, to allow for better control in difficult situations or when you are wet.  Of note is the fact that the CQC-7 was chosen by Benchmade as a production knife, that eventually became one of, and perhaps the best selling knives in the company's history.
This Ernie Emerson custom, bolstered, CQC-7B "Waveless" Specwar logo knife is brand new and direct from the Emerson Lottery at the 2018 Blade Show.  It features a hand-ground, satin finished blade with a chisel grind, bead blasted titanium bolster and liners, green canvas Micarta scales, and a black G-10 backspacer.  The pocket clip is stainless and set for tip up carry.  Ernie went "old school" on this one - no wave.  It features a thumbdisc, a domed pivot pin, and sports the Emerson Specwar logo.  This is a hard-to-find model, and highly collectible.  The CQC-7 does not come up for sale very often in the secondary market - particularly one without the Wave.  The lock-up is rock solid, and the blade is perfectly seated for a chisel grind.  Comes in the original Emerson box, with Emerson decal, plastic bag and paperwork.  This one won't be around long!
Condition:
Brand New From Maker. MINT.                  
Overall Length:  8"

Blade Length:    3 1/4"

Closed Length:  4 3/4"