Ferrum Forge Frame-Lock FEROX Flipper Folding Knife (SOLD)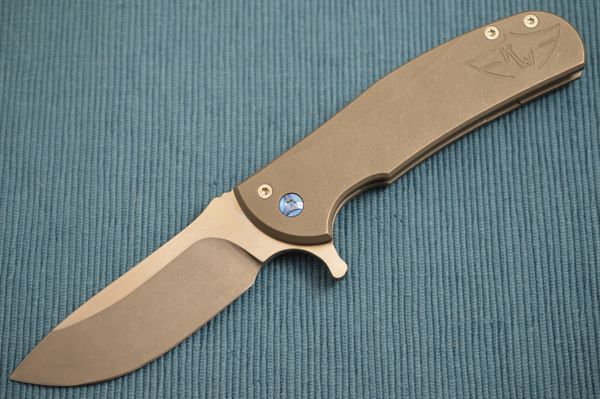 Ferrum Forge Frame-Lock FEROX Flipper Folding Knife (SOLD)
The Ferox is Ferrum Forge's mid-tech flipper, with all the features of a full custom.  The knife is hand finished, using only top of the line materials, and has the fit-and-finish of a custom.  It has a full titanium frame-lock handle, with a blasted, then stonewashed finish.  It also features a steel lock insert, with integral overtravel arrestor.  The blade is CPM-4V tool steel, with a stonewashed finish and satin flats.  It has a drop point shape, with a deep belly - plenty of cutting real estate.  CPM-4V has a high carbon content.  It is recommended that you keep your blade regularly oiled to prevent rust.  The tip-up pocket clip is titanium, as are the standoffs and pivot screw.  All of which have been anodized blue.  For a mid-tech knife, Ferrum Forge sweated the details.  This is a quality knife at an outstanding price point. 
The blade opens smooth as silk, thanks to the thrust bearings.  The blade locks up vault tight, sits perfectly centered in the frame when closed, and has an easy lock bar release.  The knife is previously owned, and in excellent condition.  It does not appear to have been carried or used.  It comes in the padded zippered case originally provided by Ferrum Forge, with the attached Ferox dogtag. 

Condition:   Previously owned.  Excellent.
                    Never used, carried or sharpened
Overall length:  8 1/4"
Blade length:    3 1/2"
Closed length:  4 3/4"