Franck Souville, Tashi Bharucha "SuperBad" Collaboration Slip-Joint Folder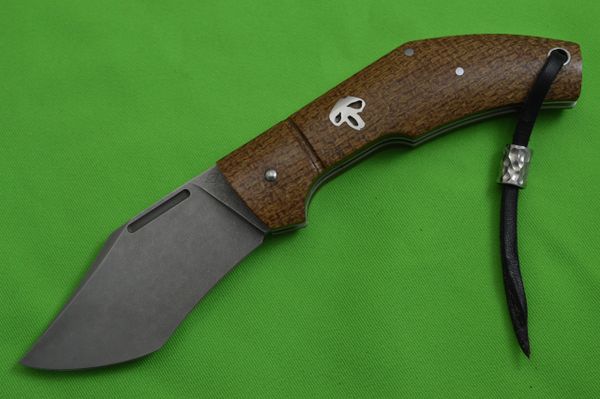 Franck Souville, Tashi Bharucha "SuperBad" Collaboration Slip-Joint Folder
Franck Souville is a knifemaker and blacksmith from Montgesoye, France.  This SuperBad model is a Tashi Bharucha design which in turn was based on Franck's Bad Guy slip-joint folder.  The broad clip point blade is acid washed premium CPM-154 stainless steel, flat ground with an oversized nail nick.  Franck's maker's mark is on the presentation side of the blade, and Tashi's is on the other side.  The handle scales are brown burlap Micarta secured with two (2) stainless pins.  There is a stylized stainless steel skull - Franck's signature symbol - inlaid into the presentation side of the handle.  The liners and backbar are stainless steel, making for a strong snap when both opening and closing the blade.  The blade can be opened by pinching both sides of the blade or using the oversized nail nick.  There is a leather lanyard with a hammered bead included with the knife.
The knife is in mint condition.  Despite being previously owned, it has never been carried or used.  It functions perfectly.  The action is smooth and the blade snaps firmly into place. It is perfectly centered when closed. There is a heavy duty slip-joint folder, up for any task.  The blade locks up tight and secure.  This would make a great EDC, or add it to your collection.  Comes in the original Franck Souville box, with business card.
Condition:   Previously owned.  Mint.
                   Never used, carried or sharpened
Overall length:  8 1/4"
Blade length:    3 1/2"
Closed length:  4 3/4"