Gary Mulkey D-Guard Damascus, Desert Ironwood Bowie (SOLD)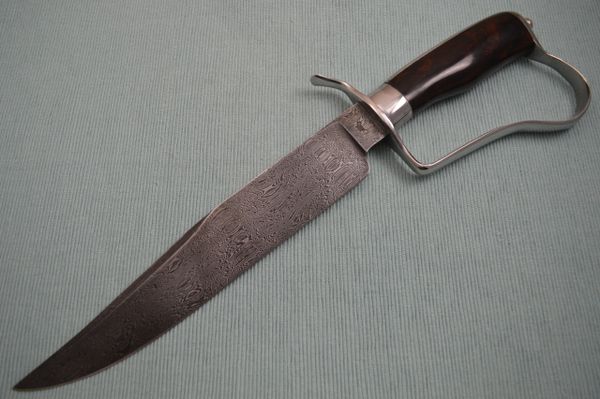 Gary Mulkey D-Guard Damascus, Desert Ironwood Bowie (SOLD)
Gary lives in Branson, MO where he has been a full-time knifemaker since 1997.  He still hand forges each blade, as well as makes his own Damascus steel.  All of his knives are sole ownership.  Gary has received multiple awards at major knife shows for his work, and has been featured in "Blade", "Knives Illustrated", "Knife World" and "Knife" magazines.
This is Gary's D-Guard Damascus Bowie.  It features a 336 layer "W" pattern, accordion cut, Damascus blade of 1080 and 15N20.  The handle is made from stabilized Desert Ironwood.  The fittings - "seashell" guard and butt cap - both 416 stainless steel - were forged from one (1) piece of stainless steel that was originally 1.5" in diameter and 2" long.  Gary noted that he wrapped the stainless guard down the top of the handle, which is unique, and as far he knows not been done before.  The knife is nicely weighted and balanced, and feels great in-hand.  Gary marks the ricasso of the blade with "MUL" and the image of a skeleton key.  A great deal of work, time, materials, and craftsmanship went into building this knife.  It is being offered at Gary's table price.  There is no sheath with the knife.  It comes in a padded zippered case.  If you need a quality leather sheath, I would recommend contacting 
Kenny Rowe Leather
.  

Condition: New from the maker.
Overall length:      15 1/4"

Blade length:        10"
Handle length:      5 1/4"
Weight:                 18.7 ounces