Gary Mulkey Damascus Searles Bowie Knife Reproduction, Best Bowie 2019 Central States Hammer-In (SOLD)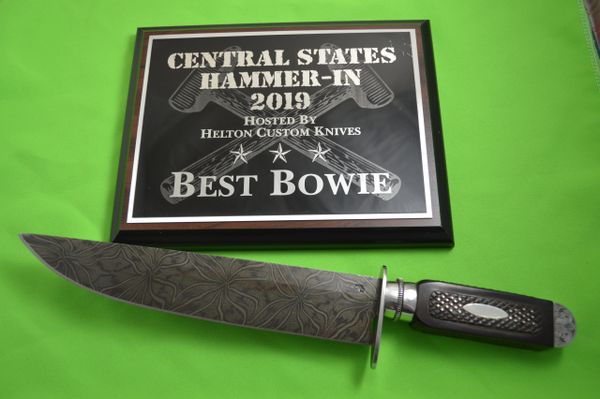 Gary Mulkey Damascus Searles Bowie Knife Reproduction, Best Bowie 2019 Central States Hammer-In (SOLD)
Gary lives in Branson, MO where he has been a full-time knifemaker since 1997.  He still hand forges each blade, as well as makes his own Damascus steel.  All of his knives are sole ownership.  Gary has received multiple awards at major knife shows for his work, and has been featured in "Blade", "Knives Illustrated", "Knife World" and "Knife" magazines.
This is Gary Mulkey's reproduction of the famous Searles Bowie, which was originally made by Daniel Searles for Resin Bowie.  This Bowie knife features a Damascus blade, forged from 1080 and 15N20 steels, and an African Blackwood handle with checkering on all four (4) sides.  The fittings, including the hilt, guard, escutcheon, pins, and pommel are all 416 stainless steel.  The hilt has fine silver inlays, and the pommel was engraved (on both sides) by Mastersmith Steve Dunn.  Steve is a master engraver, and instructor at GRS Engraving in Emporia, KS.  The knife is nicely weighted and balanced, and feels great in-hand.  Gary marked the blade with "MUL" and image of a skeleton key.  A great deal of work, time, materials, and craftsmanship went into building this knife.  And it all paid off.  Gary won "Best Bowie" at the Central States Hammer-In 2019 Hosted by Helton Custom Knives.  The pictured award plaque is included with the knife.  The knife is new, direct from Gary.  There is no sheath.  The knife will come in a padded zippered case.
Condition: New from the maker.
Overall length:       13 3/4"

Blade length:          9"
Handle length:        4 3/4"