Gary Mulkey Merovingian Pattern Damascus FIGHTER, Fossilized Natural Handle (SOLD)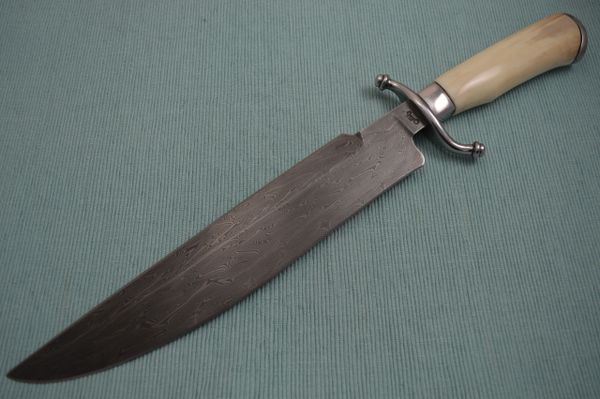 Gary Mulkey Merovingian Pattern Damascus FIGHTER, Fossilized Natural Handle (SOLD)
Gary lives in Branson, MO where he has been a full-time knifemaker since 1997.  He still hand forges each blade, as well as makes his own Damascus steel.  All of his knives are sole ownership.  Gary has received multiple awards at major knife shows for his work, and has been featured in "Blade", "Knives Illustrated", "Knife World" and "Knife" magazines.
This is one of Gary's large Fighters.  It features a six-bar Merovingian pattern Damascus blade of 1080 and 15N20.  This pattern is one of Gary's fanciest, and one he does not forge very often.  Please note that the top clip of the blade has been sharpened the entire 8 1/2" of the top edge.  The handle is made from a beautiful piece of smooth and creamy fossilized natural material.  The fittings - fancy guard, collar and butt cap - are all 416 stainless steel.  The knife is nicely weighted and balanced, and feels great in-hand.  Gary marks the ricasso of the blade with "MUL" and the image of a skeleton key.  A great deal of work, time, materials, and craftsmanship went into building this knife.  It is being offered at Gary's table price.
NOTE:  There is no sheath.  However, I spoke with Gary and he is prepared to offer the buyer of the knife a $100 credit towards the purchase of a sheath from Kenny Rowe Leather.  After purchase, I will contact Kenny and give him the name of the new owner.  Then you can deal directly with Kenny to design your sheath.  Gary will pay directly to Kenny the cost of the sheath up to $100 - anything over will be the new owner's responsibility, and there will be no refund of unused funds should your sheath be less than $100.  Alternatively, if you do not want a sheath from Kenny Rowe, contact us before buying the knife, and we can discount the knife an additional $100 to $1750.  In either case, you will receive the knife securely packed and shipped in a padded, zippered case.

Condition: New from the maker.
Overall length:      15 5/8"

Blade length:        10 1/4"
Handle length:       5 3/8"
Weight:                 15.3 ounces