Georgi Menchev Slip-Joint Trapper Knife, RWL34, G10 Scales, Leather Sheath (SOLD)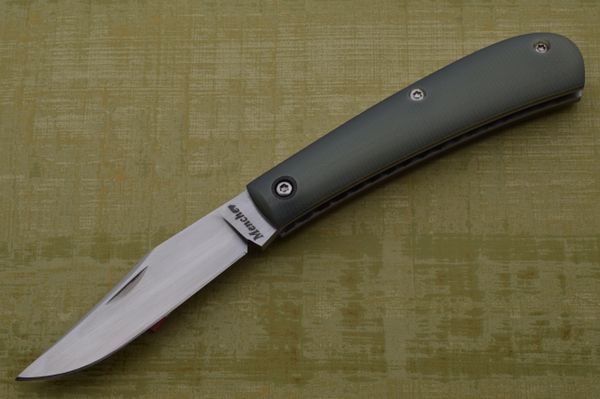 Georgi Menchev Slip-Joint Trapper Knife, RWL34, G10 Scales, Leather Sheath (SOLD)
Georgi Menchev has been making knives since 2010.  He started at the age of 16 in a small shop in St. Vlas, Bulgaria, where he still resides.  He is a member of the Bulgarian Craftmanship Guild.  He constantly strives to learn more and improve his work.  He makes both slip-joint folding knives, as well as fixed blade knives.  Windy City Knives is privileged to be able to work with Georgi and represent his knives in the United States.
This is Georgi's single-blade Trapper slip-joint folding knife.  The blade is RWL34 stainless steel, hand ground, with a satin finish.  It has been tested to a Rockwell Hardness of 60-61.  The liners and hardware are stainless steel.  The scales are light green G10.  There is a long, ample nail nick cut below the swedge.   Georgi marks the blade ricasso "Menchev".  There is no play in the blade in the open position, there is a half stop and it sits centered between the liners when closed.  Nice walk and talk too!  The knife will come with a leather slip also made by Georgi, along with a "menchevknives" (IG account) sticker, business card and COA.
Condition:  New from the Maker
Overall length:   8"

Blade length:     3 1/2"

Closed length:   4 1/2"