Gerry McGinnis Custom San Mai "Vaquero" Slip-Joint Folder (SOLD)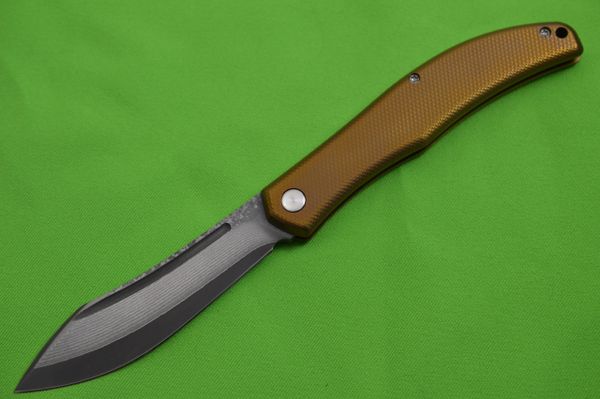 Gerry McGinnis Custom San Mai "Vaquero" Slip-Joint Folder (SOLD)
This knife came from a recent Gerry McGinnis on-line lottery.  Windy City Knives was fortunate to have acquired it from the lottery winner.  It is Gerry's custom Vaquero slip-joint folder.  Not too many of these floating around.  And after handling it, I can see why - it is not an easy knife to let go of.  I've tried to capture all that Gerry wrote on the inside of the backspacer in the last two photos.  For the most part, you'll have to take my word for it, but what is written is..."Vaquero 008 1-16-20 VG10 Gerry McGinnis (signature)".  The knife features a Takefu VG10 San Mai steel blade, and a lightened Titanium frame, anodized bronze, with a 3D textured finish.  The blade has a long pull, and a half-stop.  And the frame has a lanyard hole.
As with all of Gerry's knives, it exhibits perfect fit-and-finish, and dead center blade seating.  Comes in a padded, zippered case.

Condition:  New from the maker
•           Overall length:  8 1/4"
•           Blade length:    3 3/4"
•           Closed length:  4 1/2"