Greg Lightfoot Dress 460 Mag, Damasteel Blade / Bolster, 24K Gold Hardware (SOLD)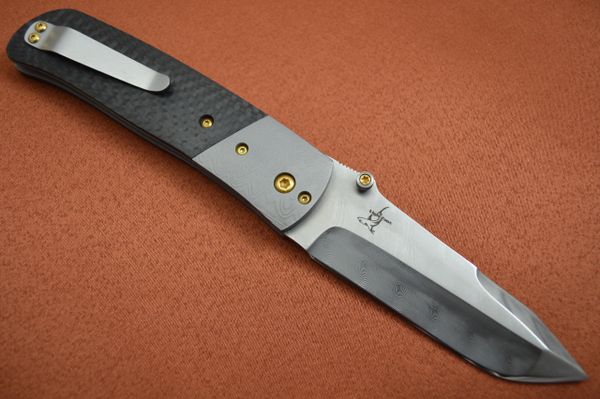 Greg Lightfoot Dress 460 Mag, Damasteel Blade / Bolster, 24K Gold Hardware (SOLD)
Canadian Greg Lightfoot is well known for his great knife designs, using the best materials, and outstanding fit and finish.  Greg was raised on a ranch, and developed a love of hunting that led to his interest in making his own hunting knives.  He soon turned his attention to folding knives, and has gained a worldwide reputation for creating tactical designs that are both unique and functional.  And even now after 30 years of knifemaking, he continues to innovate.  No ordinary tactical knives for Greg.  His knife designs have been referred to as "Extreme Jewelry".  This 460 Mag is exactly that!

This is Greg's 460 Mag model, all dressed up for classy carry.  The knife is a liner lock.  The blade is chisel ground Damasteel.  The bolster is also Damascus.  The handle scales are carbon fiber.  Even the pocket clip, which is set up for tip up carry, has subtle "lines" running the length of it, giving it an upscale appearance.  All of the hardware (hex nuts), including those holding the scales, bolster, pocket clip and thumbstud, and the pivot pin, are 24 K gold.  This knife is a beautiful example of Greg's Extreme Jewelry.  This knife is in mint condition.  The blade opens smoothly, locks up tight with no play, and is seated perfectly in the liner when closed.  Comes in a padded, zippered case.  

Condition: From my personal collection. Mint!
                   Never used, carried, or sharpened.
Overall length:  8 3/4"
Blade length:    4"
Closed length:  4 3/4"