Harvey Dean, M.S. HUCKLEBERRY Bowie, African Blackwood, Paul Long Sheath (SOLD)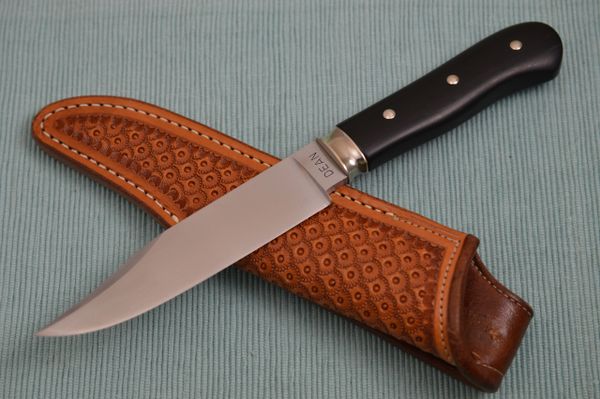 Harvey Dean, M.S. HUCKLEBERRY Bowie, African Blackwood, Paul Long Sheath (SOLD)
This is a Harvey Dean Huckleberry Bowie.  Harvey is a master at making both fixed blade knives and folders.  He is consistently producing outstanding pieces that are highly coveted by collectors and users alike.  His grinds, and fit and finish are second to none.  To hold a Harvey Dean knife in your hand is the only way to truly appreciate the craftsmanship and balance.
Harvey forged the clip point blade from 1084 carbon steel, and he's sharpened the top edge.  The large pins are nickel silver, as is the ferrule.  The Huckleberry Bowie does not have a guard.  This knife was inspired by the Joseph Rodgers design from the turn of the twentieth century.  The handle is a dark piece of African Blackwood.  This knife feels great in your hand, and would make the perfect personal carry. 
The knife was acquired from the original owner, and is in new condition.  The knife is unused, and has never been sharpened.  It includes a custom tooled leather pouch-type belt sheath made by Paul Long.  The sheath has some scratches at the throat from insertion and removal of the knife.  This is an outstanding example of Harvey's work.

Condition:  Previously owned, Mint condition. 
                    Never carried, used or sharpened
Overall length:      9 1/8"

Blade length:         5"
Handle length:       4 1/8"