Jake Hoback A8 Slimline Flipper, Sandblasted Stonewash Finish (SOLD)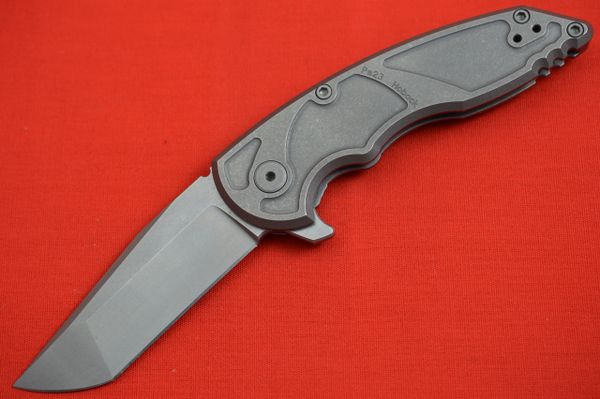 Jake Hoback A8 Slimline Flipper, Sandblasted Stonewash Finish (SOLD)
Hoback Knives - My Commitment To Quality...
"Every Jake Hoback knife is crafted of the finest, most durable materials.  Rugged, Reliable, and Precision-Engineered.  Made for hard work, my knives are built to be tools, not just trophies!  My knives are built to last.  If your knife is defective due to materials or workmanship, please return it for repair.  Your knife will be repaired at no charge, including parts and labor.  If repair is not possible or practical, your knife will be replaced with the same or a comparable model."
Windy City Knives is a proud member of the Jake Hoback Knives authorized dealer network.
The A8 is the down-home, hard-work inspired folder.  We built this knife to be at home in your pocket, so it's always where you need it and you don't have to think about it.  It just plain works.  We took the A10 folder and scaled it down to be much more pocket-friendly, while still being large and in charge!  The A8 still sports a 3.25" long blade like its A10 big brother, but it's much narrower and slides into the pocket with ease.  And anytime you see the word "Slimline," you know the knife will be lighter, faster, and thinner for even more ease of carrying. It will boast the same strength and precision engineering you have come to expect from Jake Hoback Knives.
This A8 frame-lock flipper has a 0.1875" thick CPM 20CV blade, and full 0.1875" thick Grade 38 titanium handle frame.  Both have a sandblasted stonewash finish.  Other features of the knife include Pivot Thrust Bearings, HRD (Hoback Roller Detent), Engineered Internal Lightening Pockets (less weight, same strength), Standard Sizes on all Screws for Ease of Replacement, and Hardened Steel Bearing Races.
The knife has great flipping action, locks up tight with no play, releases easily from the frame lock, and the blade sits perfectly centered in the handle.  The knife weighs a mere 4.7 ounces.  The knife comes in a Hoback Knives wooden presentation box with Jake's certificate.

Condition:  Brand New From Maker.
Overall length:  7 3/4"

Blade length:    3 1/4"

Closed length:  4 1/2"