Jake Hoback Carbon Fiber Kwaiback UHEP Frame-Lock Flipper, Flat Dark Earth G10 Inlay (SOLD)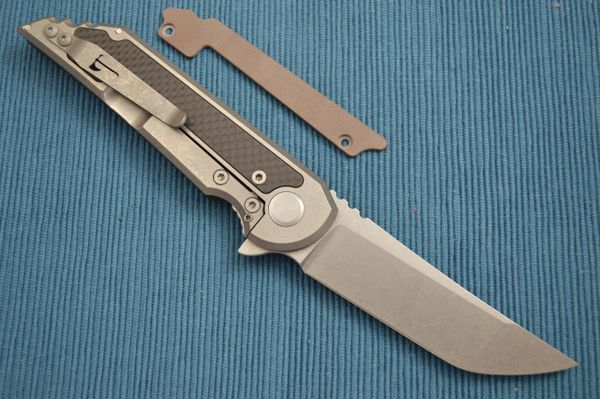 Jake Hoback Carbon Fiber Kwaiback UHEP Frame-Lock Flipper, Flat Dark Earth G10 Inlay (SOLD)
Hoback Knives - My Commitment To Quality...
"Every Jake Hoback knife is crafted of the finest, most durable materials.  Rugged, Reliable, and Precision-Engineered.  Made for hard work, my knives are built to be tools, not just trophies!  My knives are built to last.  If your knife is defective due to materials or workmanship, please return it for repair.  Your knife will be repaired at no charge, including parts and labor.  If repair is not possible or practical, your knife will be replaced with the same or a comparable model."
Windy City Knives is a proud member of the Jake Hoback Knives authorized dealer network.
This folder is Jake's KWAIBACK UHEP flipper.  The presentation side of the handle is all carbon fiber with fullers, and the lock side of the handle is Grade 38 titanium with a carbon fiber inlay.  Also included is a Flat Dark Earth G10 inlay that can be swapped out with the CF inlay.  Both sides are 0.1875" thick.  The blade is 0.1875" thick CPM 20CV Stainless Steel, set tip up.  The knife flips effortlessly, locks up tight with no play, releases easily from the frame lock, and the blade sits perfectly centered in the handle.  The knife weighs a mere 5.7 ounces.  The knife comes in a Hoback Knives wooden presentation box with Jake's certificate.
Condition:  Brand New From Maker.
•           Overall length:  9"
•           Blade length:    3 3/4"
•           Closed length:  5 1/4"