Jake Hoback Kwaiback, Black DLC Fallout Fixed Blade, Carbon Fiber (SOLD)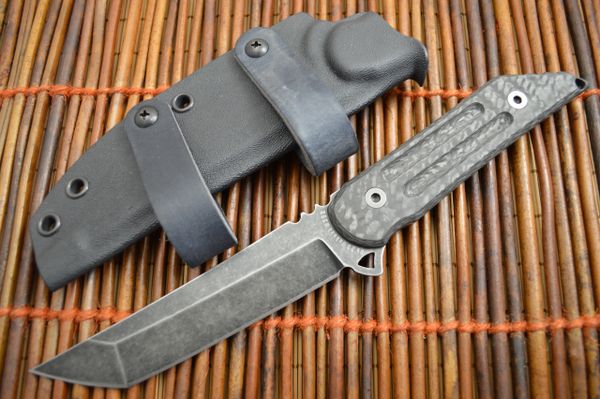 Jake Hoback Kwaiback, Black DLC Fallout Fixed Blade, Carbon Fiber (SOLD)
From the Hoback Knives website...
"Every Jake Hoback knife is crafted of the finest, most durable materials.  Rugged, Reliable, and Precision-Engineered.  Made for hard work, my knives are built to be tools, not just trophies!  My knives are built to last.  If your knife is defective due to materials or workmanship, please return it for repair.  Your knife will be repaired at no charge, including parts and labor.  If repair is not possible or practical, your knife will be replaced with the same or a comparable model.
After years of making the Kwaiback folder, we have finally been able to get our heads above water and produce a fixed blade version of our well-received folder line.  I have always been inspired by the Japanese warrior culture. The Kwaiback has always been a very "Samurai Sword" blade shape, so it was only a matter of time before we decided to run it as a fixed blade.  With its properly designed and engineered internal lightening pockets, this fixed blade will go on your belt without dragging you down or having you worry about it breaking.  The 5" x 3/16th thick, slightly upswept blade shape allows for very efficient cutting and slicing movements -- just like the Samurai Swords of old.  The carbon fiber handle gives that touch of modern to an ancient design, while being comfortable for hard use.  The Kwaiback Fixed Blade comes with a specially-designed kydex sheath."
Windy City Knives is a proud member of the Jake Hoback Knives authorized dealer network.
Condition:  Brand New From Maker.
Blade:  0.1875 Thick, M390 Steel

Frame:  0.1875 Thick, Carbon Fiber Handle

Overall Length: 9.638"

Blade Length: 5"

Color: Black DLC Fallout Finish

Custom Turned Hardware

Kydex Sheath with thumb break