James L. Jackson, M.S. Sheffield Type Bowie Knife, Silver "Tiffany" Handle and Sheath (SOLD)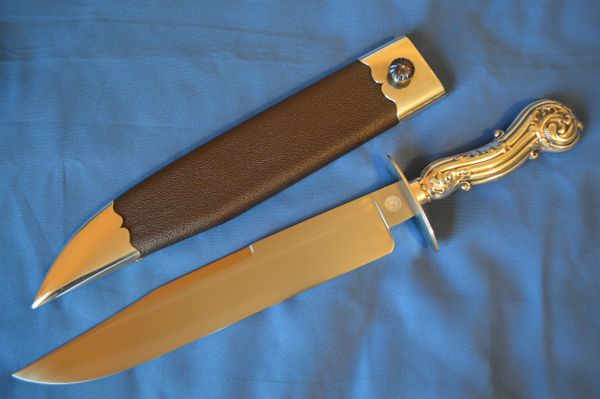 James L. Jackson, M.S. Sheffield Type Bowie Knife, Silver "Tiffany" Handle and Sheath (SOLD)
James L. Jackson trained at The Tower of London and held the position of Armourer to Her Majesty The Queen from January 1, 1958 until he retired in July 2002.  He was responsible for the conservation and restoration of all arms and armour in The Royal Collection at Windsor Castle, Holyrood Palace, Hampton Court, Sandringham House, and several other locations.  He still is an Arms and Armour Consultant to The Royal Household.  Jim studied knifemaking in the U.S. and qualified as a Journeyman Smith in 1997, and became a Master Bladesmith with the American Bladesmith Society (ABS) in 2001.
Finding one of Jim's knives available for sale is extremely rare, particularly one like you see here.  This Sheffield Type Bowie Knife features a long clip point blade made of 1084 steel, that has been differentially hardened.  The ricasso is stamped "JACKSON, ENGLAND" on one side, and "MS" on the other side.  Both stamps have been mounted within a silver inlay.  The oval guard is made of silver, with a decorative filed grove around the perimeter.  The silver handle is made from an original Sheffield Cutlery handle, sometimes referred to as a "Tiffany".  The frog button sheath is made of wood with brown Morocco leather, lined inside with suede leather.  Fine silver mounts are evident on the tip of the sheath, as well as the throat of the sheath.  The back seam of the sheath has been file-worked, and there is also a file-worked and blued frogstud.  The silver throat has been engraved "J L Jackson, Armourer to H.M. The Queen 1958-2002".  There is a fine, faint line running through his name.  The knife is on consignment from the collection of another world renown Mastersmith.  He acquired it directly from Jim, and it has been in his collection since.  Being a Mastersmith himself, the knife was well cared for, and stored properly.  The knife is in excellent, unused condition.  I dare say it is close to mint condition.  The only thing of note are a couple of very minor carbon spots on the blade from age.  This Mastersmith is "thinning" out his collection, and Windy City Knives is honored to have been appointed as his chosen purveyor.

This would be a great addition to any collection, surely an attention grabber.  Jim's knives are scarce as hen's teeth.  Having been retired from knifemaking for nearly 16 years, his knives are highly collectible and desirable.  His work is well-respected among both makers and collectors.  The knife will include Jim's Certificate of Authenticity.  No case with this one.

Condition:  Previously owned, Near Mint Condition
                    Never used, carried, or sharpened
Overall length:      15 7/8"

Blade length:        10 3/4"
Handle length:       5 1/8"