Jason Ritchie Damacus "Roscoe P. Trapper" Vintage Westinghouse Blue Ivorite Micarta (SOLD)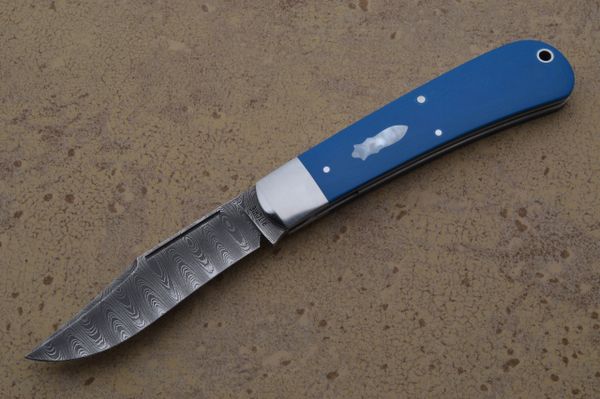 Jason Ritchie Damacus "Roscoe P. Trapper" Vintage Westinghouse Blue Ivorite Micarta (SOLD)
Jason Ritchie is from Hanover, Illinois. He is a former Marine and has spent the last 20 years as a full-time Railroad Signalman.  As a part-time traditional slip-joint knifemaker, he built his first knife in 2020.  Jason got started in the knife industry by doing production knife handle modifications to Case and Great Eastern Cutlery knives a year earlier.  To look at and handle one of Jason's knives you would never know he has only been making knives for a couple of years, let alone the fact that he is self-taught.  His work is that of a much more experienced knifemaker. Jason draws his inspiration from the late, great Tony Bose, as well as from Reese Bose.  His attention to detail and fit-and-finish are testament to his commitment to his craft.  Jason is one of those new makers who should be on every slip-joint collector's radar.  Windy City Knives is privileged to work with Jason.
Jason calls this knife his "Roscoe P. Trapper".  Jason's story behind the knife was that the Rosco P. Trapper was patterned from the Great Eastern Cutlery #43 Oregon Trapper.  His version primarily gets a long pull and was shortened up by 1/8" (closed length).  The prototype was made for one of Jason's good friends, who is a retired Sherriff's deputy.  With that in mind, he wanted to give it a name as a nod to his friend.  Hence Rosco P., one of America's most famous Sherriff characters.
This particular knife is Jason's very first Damascus steel build.  The blade is Devin Thomas stainless ladder pattern Damascus, with a Rockwell hardness test of 60 HRC.  The handle material is verified vintage Westinghouse Blue Ivorite Paper Micarta, which is currently extremely rare and valuable.  The stainless steel spring is Magnacut.  And the inlaid Bombshell shield is genuine MOP. 
The long pull affords the user a secure, firm and smooth pull.  There's also a lanyard hole.  The blade locks up tight without any play, and it sits centered between the liners when closed.  Nice walk and talk too!  Included with the knife is a Horween Leather slip made by HW Leather with some matching blue stitching, a padded zippered case and Jason's COA.

Condition:  New from the Maker
Overall length:   7 1/2"

Blade length:     3 1/4"

Closed length:   4 1/4"