J.E. Made "Blacked-Out" Slip-Joint Folder, Carbon Fiber Scales, Titanium Bolster, S35VN (SOLD OUT)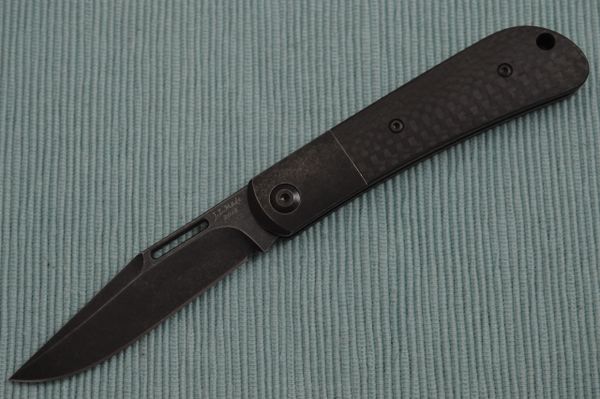 J.E. Made "Blacked-Out" Slip-Joint Folder, Carbon Fiber Scales, Titanium Bolster, S35VN (SOLD OUT)
This J.E. Made slip-joint folder features a black premium CPM S35VN stainless steel, clip point blade with false edge, and a "cut out" long pull.  The hollow ground cutting edge provides razor-like cutting, and the S35VN offers optimal edge retention and corrosion resistance for everyday use.  The open long pull makes it easy for both right-handed or left-handed users.  The handle scales are carbon fiber, with a large black Torx pivot and two black Torx screws.  The backspring is blackened stainless steel.  The bolster is smooth black titanium, and the liners are integral.  There is also a generous lanyard hole in pommel.  The knife has a half stop, and is flush in all positions.  The blade is centered between the liners when in the closed position, and there is no blade play when opened.  Walks and talks.  A great EDC to drop in your pocket.
Condition:  New from the Maker.
Overall length:    7"




Blade length:      3"




Closed length:    4"