Jens Anso Slip-Joint "Casino", Zirconium Handle, RWL-34 (SOLD)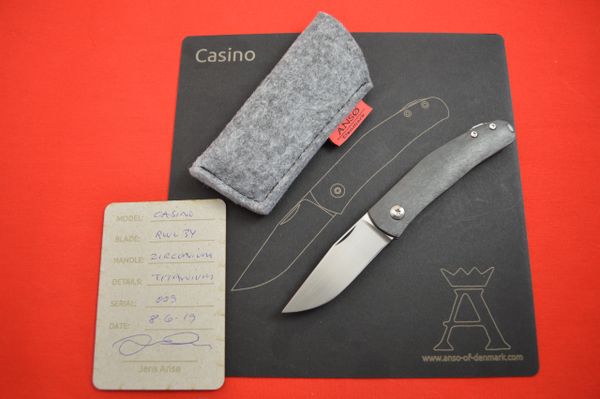 Jens Anso Slip-Joint "Casino", Zirconium Handle, RWL-34 (SOLD)
Jens Anso has been making knives for over 30 years.  He became a full-time maker in 2001.  The Casino slip-joint folder is Jens' newest model release.  It features a hand rubbed, satin finished RWL-34 steel blade, with a nail nick.  The handle is brushed zirconium.  The tip-up clip and backspacer are anodized and tumbled titanium.  It also features a lanyard hole.  The blade has a half-stop, and the knife has a "double detent mechanism" to hold the blade open, without "locking" it in place.  Dead center blade seating.  Comes with a COA, an Anso felt pouch, and I'll include the pictured black board that Jens has at his table.

Condition:  New from the maker

Overall length:  6 3/8"

Blade length:    2 5/8"

Closed length:  3 3/4"