Jeremy Marsh MAC Roxstar, 10" Free Acid Etched Blade, Anodized #83 (SOLD)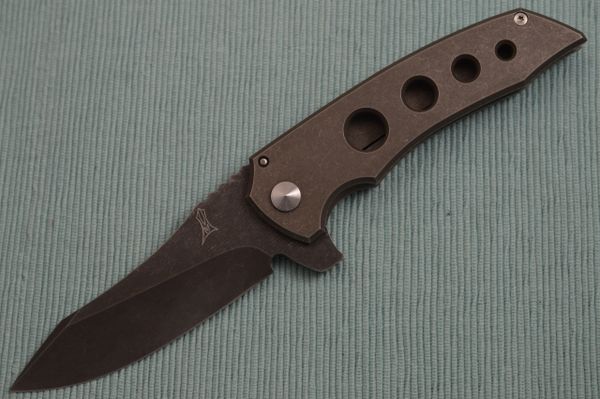 Jeremy Marsh MAC Roxstar, 10" Free Acid Etched Blade, Anodized #83 (SOLD)
This Jeremy Marsh MAC (Marsh Almost Custom) Roxstar was delivered new at the 2016 Blade Show, and has been stored since. It was a limited run that was done for the show, and this one is #83 - marked on the box, as well as etched on the inside rear of the lockbar side of the handle. I had two of these beauties - one I carry (and love!), and this is the other one. It is new condition, unused and never carried. This Marsh Roxstar features a hand ground, dark acid washed CPM 154 steel blade, that runs on bearings. It flips smooth and effortlessly. The handle is anodized titanium. There's a notched thumb rest, and conical pivot pin. The detent is excellent, the lock-up is early and tight with no play, and the blade sits perfectly centered in the frame. Comes in the Marsh box marked "#83, 10" Free, Ano / Acid Wash".
Condition: New. Mint Condition.
Overall length: 8 3/4"




Blade length: 3 3/4"




Closed length: 5"