Jim Burke Custom ASCENSION Fire Pattern Flipper Folding Knife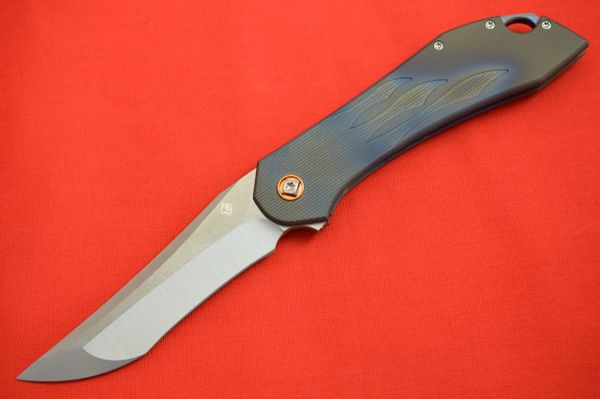 Jim Burke Custom ASCENSION Fire Pattern Flipper Folding Knife
This ASCENSION frame-lock flipper folding knife is new from Jim Burke.  It was one of Jim's lottery knives, purchased at his table at a recent Blade Show.  The knife features a hand rubbed, multi-ground satin finished CTS XHP stainless steel blade, and 6AL4V Titanium frame.  Jim's grinding skills are outstanding, and the blade is scary sharp.  The frame was heat-treated and done in Jim's FIRE PATTERN.  The heat-treated pocket clip and screws are also titanium.  The fancy pivot is surrounded by a copper collar.  The backspacer is dark titanium, with an integral lanyard loop.
The blade runs on bearings and flips smoothly and effortlessly.  Jim uses a small flipper tab, which affords the knife a sleek and linear profile.  It does not stick out far from the frame in the closed position and hides nicely in the frame when opened.  It does take some practice to flip.  The trick is to make sure you're not putting pressure on the lock bar.  The blade locks up tight with no play, releases without any stick, and sits centered in the frame when closed.  The knife comes in a Burke Knives box, with drawstring pouch and authenticity card, all provided by Jim.  This would make a great addition to any collection, or just as easily be an everyday carry.
Condition:  Brand New. Mint Condition.
Overall length:  9 1/4"




Blade length:    4 1/8"




Closed length:  5 1/8"