Jim Crowell, Master Smith Clip Point Hunting Knife (SOLD)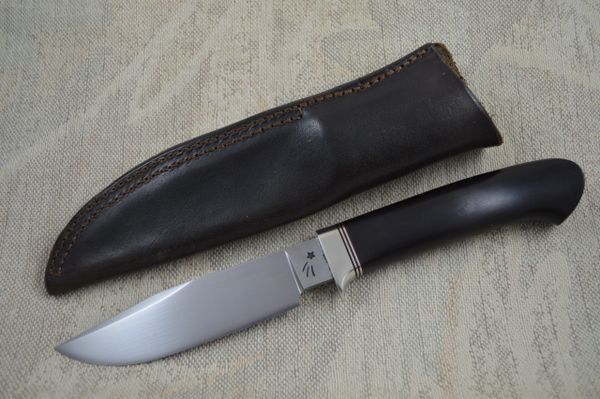 Jim Crowell, Master Smith Clip Point Hunting Knife (SOLD)
Jim Crowell is well-known for his flawless forging ability. The Hunter is Jim's signature knife, and coveted amongst collectors. Jim's hunters don't come up for sale too often, but when they do, they are sold quickly. This hunter was just sent back to Jim to be cleaned up, and for all intents and purposes is in excellent condition - except for one tiny area of carbon spotting as seen in the pictures. Jim did such a great job getting it back into shape that you cannot even feel the spot with your fingernail - it is faint, and smooth as the rest of the blade. There are no sheath marks on the guard, and the handle is perfect.
Jim's signature "Shooting Star" maker's mark was stamped on the tang, meaning this one was made several years ago. Jim earned his MS stamp in 1986 and although this knife is not stamped as such, Jim told me this knife was done well after 1986. The handle is African Blackwood, the blade is 1084 steel, and the guard is nickel silver. The top edge of the clip point blade is somewhat sharpened for about 2" - just not quite as razor sharp as the blade edge. The blade grinds and geometry are perfect. Comes with a pouch style leather sheath, also made by Jim.
Condition:
Previously owned. Refurbished by maker
Never used, carried, or sharpened
Overall length: 10"
Blade length: 5"