Jimmy Lile "No Dot" Double Edged Boot Knife (SOLD)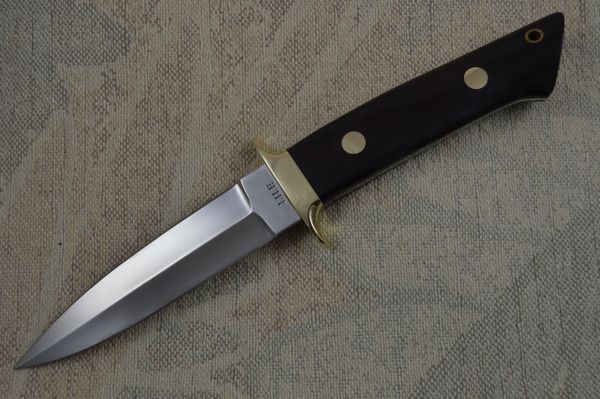 Jimmy Lile "No Dot" Double Edged Boot Knife (SOLD)
This is a rare Jimmy Lile "No Dot" double edged boot knife. We are guessing that it is circa the late 1970's, but have no way to verify this other than by the kind of knives Jimmy was making back then. The blade steel could be D2, but again, no way to determine this for certain. The handle appears to be brown canvas micarta. The double lugged guard, handle pins and thong hole are all brass. This came from a private collector. Based on the appearance of the guard and pins as compared to the brass around the thong hole, it would appear that at some point the guard and pins might have been cleaned. There are also 2 small tarnish marks on the bottom part of the guard where it meets the tang of the blade - barely visible. Overall, the knife in in beautiful condition, but you may find a minor handling mark or two after 30+ years. The blade has never been used or sharpened. It is still as razor sharp as the day it left Jimmy's shop. The tapered tang reduces the overall weight of the knife, and the contour of the handle makes it feel great in-hand. Jimmy Lile's knives without the dot are becoming increasing more difficult to find in the secondary market. They are highly desirable and coveted by collectors. Now's your chance to get one of his more sought-after models. There is no sheath, but it will be shipped in a padded zippered case for protection.
Condition:
Previously owned. Excellent (as noted)
Never used, carried, or sharpened.
Overall length: 9 3/4"
Blade length: 4 7/8"