Joe Flournoy M.S. Stag Handle Personal Carry, Rowe Leather Sheath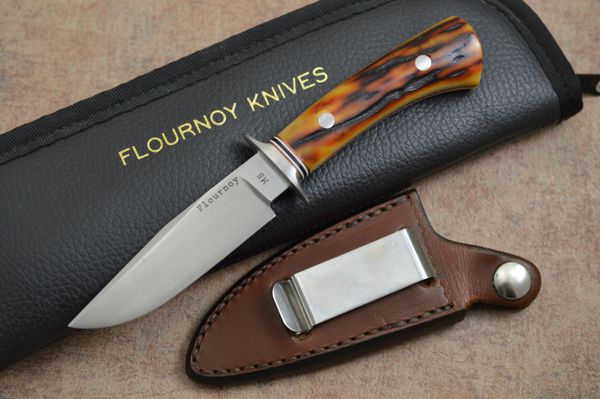 Joe Flournoy M.S. Stag Handle Personal Carry, Rowe Leather Sheath
Joe Flournoy earned his Mastersmith stamp from the American Bladesmith Society (ABS) in 1992.  He started making knives in 1977, and joined the Knifemakers' Guild in 1979.  He has won any number of major awards for his knives, including Best Forged Blade at the 1992 Blade Show, and in 1993 he received the coveted W. F. Moran Award.  In 1995 he won the Blade Show award for the Best Damascus.  After the bladesmithing school opened at the Bladesmith Shop in Historic Washington State Park, he was the first person to enroll in a class.  He was taught basic forging by none other than Bill Moran.
This knife is one of Joe's highly desirable Personal Carry hunters.  It is the perfect gentleman's carry utility knife.  It was a one owner knife before coming into our possession.  The blade was forged from 5160 high carbon steel, with a hand rubbed finish.  The handle is two (2) nicely mated Amber Stag scales.  The knife is made of hidden tang construction.  The stag scales are perfect - no chips, cracks or shrinkage.  The double lug guard and pins are 416 stainless.  There are copper, white and black spacers between the guard and handle.  The knife comes with a leather, quick release button snap, boot / belt clip sheath, made by Kenny Rowe Leathers.  Also included with the knife is a "Flournoy Knives" padded zippered case.  There are some very fine micro scratches on the blade from inserting it into the sheath - they cannot be seen with the naked eye, or photographed.  This is a great example of Joe's work.  Definitely a knife that would serve you well.  Ready for any "gent's" task.
Condition: 
Previously owned, Excellent.
                    Never carried, used or sharpened
Overall length:       7 3/4"

Blade length:         3 7/8"
Handle length:       3 7/8"