John W. Smith Deluxe Small Folding Dagger (SOLD)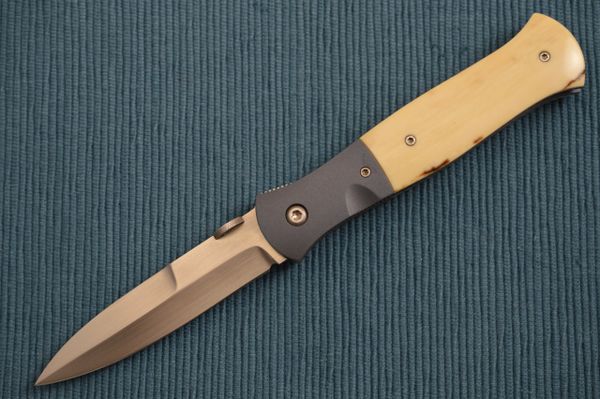 John W. Smith Deluxe Small Folding Dagger (SOLD)
John W. Smith has been a full-time knifemaker since 1993, and a voting member of the Knifemakers Guild.  Most of his work is in embellished locking folders, with an occasional art fixed blade.  In 1994 he began doing his own engraving, and started making Damascus in 1999.  He prefers natural handle materials such as mother of pearl, fossilized materials and stone.  For blade steel, he uses his own Damascus, or one of the high quality stainless steels currently available on the market. 

This knife is one of John's coveted deluxe dagger grind liner-lock folding knives.  It features a hand-rubbed satin finished dagger ground ATS-34 stainless steel blade, and dark bead blasted bolster, liners and oversized pocket clip.  The handle scales are rich and creamy fossilized material - nicely mated and in perfect condition.  The backspacer is polished titanium.  The blade opens buttery smooth with the use of a thumb disk.  There is jimping on the lock release for a good tactile feel, and jimping on the blade spine, behind the thumb disk.  John discreetly marks his knives with "JWS" in a diamond, on the underside of the blade tang.  This is a hard-to-find model, and highly collectible.  The blade locks up rock solid when opened, sits dead centered between the liners when closed, and there is no lock stick.  Comes in a padded case.  This one won't be around long!


Condition: Previously owned. Mint.
                   Never carried, used or sharpened
Overall Length:  7 1/8"

Blade Length:    3"

Closed Length:  4 1/8"