John White, MS, 7 1/2" W-2 Camp Knife, Paul Long Sheath (SOLD)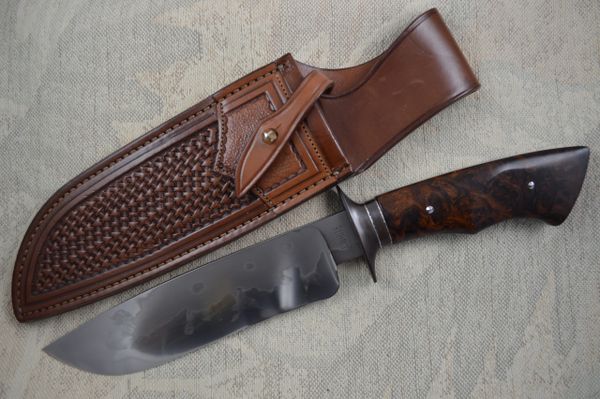 John White, MS, 7 1/2" W-2 Camp Knife, Paul Long Sheath (SOLD)
John White was named "Best New Maker" at the 2004 Blade Show. He is a graduate of the American Bladesmith Society School at Old Washington, Arkansas, where he studied under Jim Crowell, Roger Massey and Mike Connor. An award-winning professional boat builder and accomplished wood craftsman, John earned his JS stamp in 2004 and his MS stamp in 2007. Sadly, the knife world lost John on October 4, 2014. This highly talented artisan will be deeply missed by many.
This Camp Knife was made by John for the Blade Show in 2013. The blade was forged from W-2 carbon steel. It was clay-hardened for Hamon, and tempered at 450 degrees. The guard and collar are rust-brown wrought iron, the file-worked accent spacers, file-worked three-piece frame, and faceted pins are stainless steel. The sculpted handle scales are Desert Ironwood. The custom sheath is made by Paul Long.
This knife is in absolutely pristine condition. It is MINT, as though new from the maker. The grinds on the blade are impeccable. John's fit and finish is second to none. It feels perfectly balanced in-hand.
Condition: Previously owned. MINT, As NEW
Never used, carried, or sharpened.

Overall length: 13"
Blade length: 7 1/2"