John White, MS Damascus Dagger, Ancient Fossilized Scales (SOLD)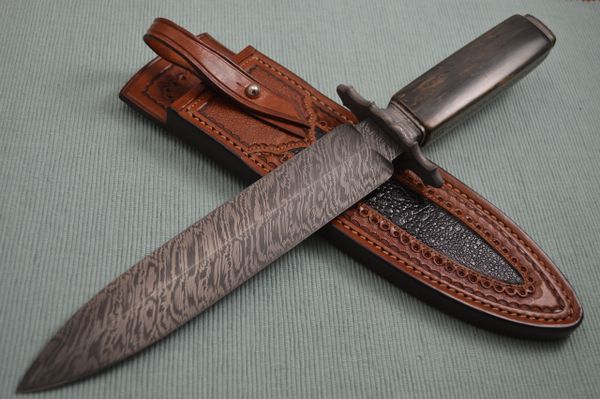 John White, MS Damascus Dagger, Ancient Fossilized Scales (SOLD)
John White was named "Best New Maker" at the 2004 Blade Show.  He is a graduate of the American Bladesmith Society School at Old Washington, Arkansas, where he studied under Jim Crowell, Roger Massey and Mike Connor.  An award-winning professional boat builder and accomplished wood craftsman, John earned his JS stamp in 2004 and his MS stamp in 2007.  Sadly, the knife world lost John on October 4, 2014.  This highly talented artisan will be deeply missed by many.
This Damascus Dagger was made by John for the 2008 Blade Show.  It won him the Best Damascus Award at the Show.  The blade, guard, collar and buttcap were all forged from 1084 and 15n20 carbon steels in a four-bar W's / twisted-basked-weave pattern.  The handle scales are beautifully matched, rich colored, ancient fossilized material.
The knife is in new condition, having recently been acquired from the original owner who purchased it from directly from John, at the 2008 Blade Show.  It has resided in his personal collection - properly stored - until now.  It is in virtually mint condition, as though new from the maker.  The grinds on the blade are impeccable.  John's fit and finish is second to none.  It feels perfectly balanced in-hand.
The knife comes with a custom tooled leather sheath with alligator inlay, made by Paul Long.  I will also include a padded, zippered case for storage.  Also included with the knife will be the February 2009 issue of Blade Magazine where the knife was featured as one of the Best of the Best, as well as a studio photograph of the knife done by Eric Eggly of PointSeven Studios.
PLEASE EMAIL info@windycityknives.com FOR AVAILABILITY PRIOR TO PURCHASING.
Condition:  Previously owned. Mint. Like new
                    Never used, carried, or sharpened.

Overall length:  13 1/4"
Blade length:      8 1/4"
Handle length:    5"