Karl B. Andersen Brute de Forge Boundary Waters Belt Knife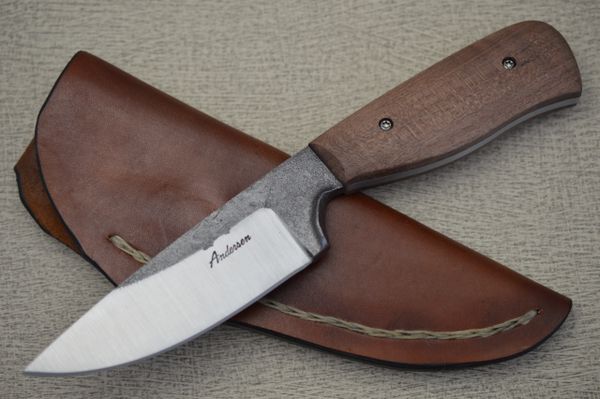 Karl B. Andersen Brute de Forge Boundary Waters Belt Knife
Karl B. Andersen is the owner and operator of Andersen Forge in Minnesota.  Karl is a life-long hunting, fishing, canoeing and camping enthusiast.  It is these activities that have given him the experience and desire to create knives for others who also share Karl's passions.  He has spent the majority of his life pursuing these activities in rural and remote Illinois, Florida, Kentucky, Georgia and Minnesota.   Karl began making knives in 1996.  In 2003 he joined the American Bladesmith Society (ABS), and in 2008 he earned his Journeyman Smith (J.S.) rating.  Since 2010 he has been a full-time maker.

This knife is Karl's Boundary Waters Belt Knife, done in the Brute de Forge style.  The Boundary Waters Belt Knife was an exclusive offering of the Piragis Northwoods Company in Ely, MN.  The blade was forged from 1084 tool steel, and finished by hand.  Designed with a full tang and a forged finger guard, the knife just melts in your hand.  It is a stout knife, capable of handling all your daily needs.  Whether it's food prep or cutting kindling, this knife has got you covered.  The handle is two (2) stabilized maple scales, secured with Torx screws.  This knife is a real workhorse.  It comes with a wet molded leather belt sheath, custom fitted for the knife.  The knife will be shipped exactly as it was shipped to the one original owner, with the tip protector, cleaning cloth, padded zippered case, and Karl's business card.  It is in new, original condition.  It has never been used, carried or sharpened.
Condition: Previously owned. New. Mint.
                   Never used, carried or sharpened
Overall Length:       8 3/4""

Blade Length:         4"

Handle Length:       4 3/4"