Kevin Hoffman KLH "The Barb" Neck Knife (SOLD)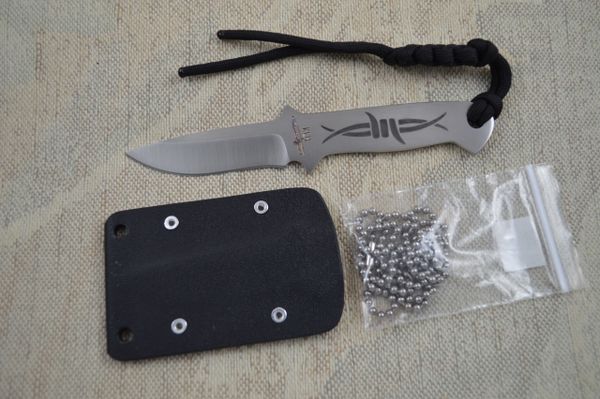 Kevin Hoffman KLH "The Barb" Neck Knife (SOLD)
This Kevin Hoffman neck knife is brand new and direct from Kevin's shop in Savannah, GA. Kevin calls this model "The Barb". The knife is made from ATS-34 steel with a 320 grit brushed finished blade. The handle features an electro etched Barbed Wire Logo Design. The knife comes with a custom fitted Kydex sheath, and a 26" long dog tag style ball chain. There is also a black 550 Para cord thong hole fob. Kevin's grinds are outstanding. This is a great back-up knife that you'll hardly know is around your neck - it weighs a mere 3.0 ounces with the sheath! Kevin's fit and finish is a testament to has art background and attention to detail. Kevin's "KLH" and knife logo appear on one side of the knife, and the outline of the state of Georgia on the other side. This is an awesome piece, at a great price!

Condition: Brand new from the maker

Overall length: 5 7/8"

Blade length: 2 3/4"