Kevin Hoffman KLH "Urban Dirk", Shoulder Rig Kydex Sheath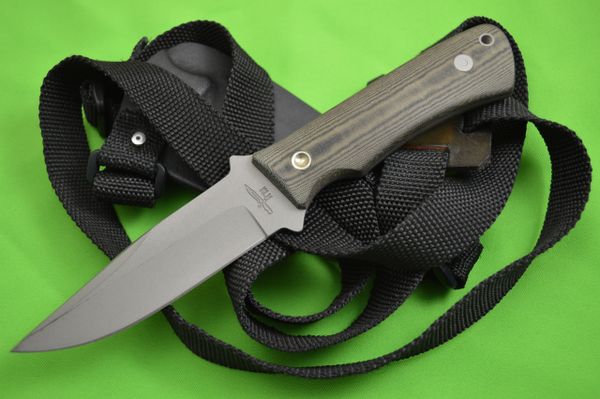 Kevin Hoffman KLH "Urban Dirk", Shoulder Rig Kydex Sheath
This is Kevin Hoffman's "Urban Dirk". The blade is made from ATS-34 steel, with a non-reflective bead blasted finish. The swedge of the blade has a false edge. The handle is black linen micarta, pinned in two places, with one of those pins being "depressed" so that the knife locks securely in the sheath. The custom made Kydex sheath comes with Kevin's specially designed shoulder rig harness. This was an option that Kevin offered on several different fixed blade models for shoulder carry. The Kydex sheath does not have a belt loop. This set up was designed for shoulder only. This knife was acquired directly from Kevin at a Blade Show several years ago, and was subsequently acquired from the original owner. It is in excellent condition, although you will find marks on the blade from insertion into the Kydex sheath. Kevin's "KLH" and knife logo appear on one side of the blade, and the outline of the state of Florida is on the other side. A great tactical piece that can be discretely worn for concealed carry.
Condition:
Previously owned.
Never used, carried or sharpened
Overall length: 9 1/2"

Blade length: 4 3/4"
Handle length: 4 3/4"