Kevin Hoffman KLH "Urban Kukri" Fixed Blade, Kydex Sheath, Tek-Lok (SOLD)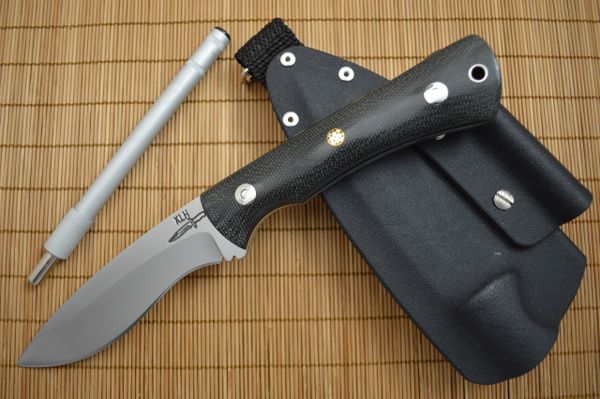 Kevin Hoffman KLH "Urban Kukri" Fixed Blade, Kydex Sheath, Tek-Lok (SOLD)
This Kevin Hoffman "Urban Kukri" is brand new and direct from Kevin's shop in Savannah, GA.  The satin finish blade is made from ATS-34 steel.  The handle is black Canvas Micarta with white linen spacers, stainless steel bolts and thong hole liner, and stainless steel decorative mosaic pin.  The custom made Kydex sheath features a Tek-Lok belt carry system, and includes a Diamond Sharpening Rod.  Kevin's "KLH" and knife logo appear on one side of the blade, and the outline of the state of Georgia on the other side.  A great, versatile knife to carry out in the backwoods on a hike or camping trip.  We love the aggressive lines of the Kukri blade shape!
Condition: 
Brand new from the maker
Overall length:      9 1/8"

Blade length:        4 1/2"