Kevin Hoffman, The American Eagle Liner Lock Folder (SOLD)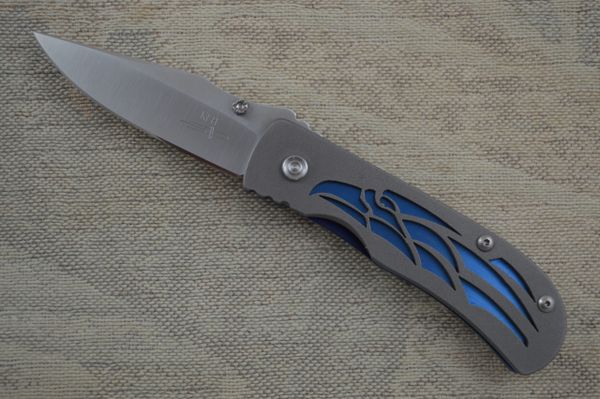 Kevin Hoffman, The American Eagle Liner Lock Folder (SOLD)
Kevin Hoffman (KLH), American Eagle. On the front there is a boldly stylized eagle's head carved into the handle, and on the opposite side there is a sculpted pocket clip shaped like an eagle's wing - completing an iconic American design. KLH is laser cut into the wing pocket clip. The blade is satin finished ATS-34, and is opened by a thumb stud. The action is very smooth because the blade rides on a stainless steel pivot and two Teflon wafer bushings. The handle, frame, back bar and pocket clip are all crafted from titanium for the utmost in strength and durability. The exterior titanium handle has a sandblasted finished. The blade is marked KLH with a fixed blade, and an outline of the state of Florida on the reverse side. Locks up tight with no blade play when opened. The knife was originally purchased in the early 2000's.
Condition:
Previously owned. Barely visible handling marks on the titanium.
Never used, carried, or sharpened.
Overall length: 7 1/2"

Blade length: 3 1/4"

Handle length: 4 1/4"