Koch Tools Custom GNAT Friction Folding Knife (SOLD)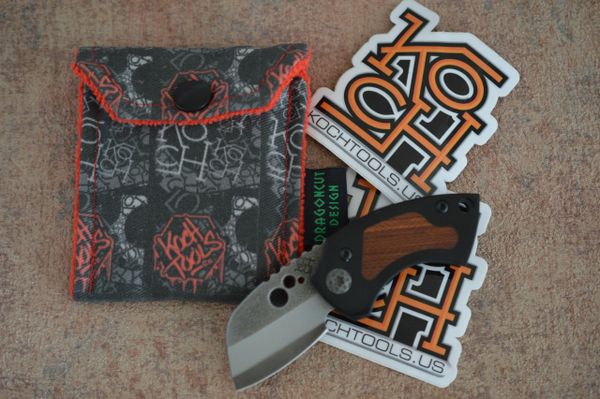 Koch Tools Custom GNAT Friction Folding Knife (SOLD)
The Koch Tools Gnat was designed and handcrafted in the U.S.A. by Justin Koch.  The Gnat is a compact non-locking friction folder.  The blade of the Gnat is deployed by depressing the elongated tang, and there's plenty of jimping along the blade spine.  Due to its non-locking 1.5" blade, the Gnat is legal in most places.  Not only is it compact and lightweight (1.6 ounces), it is also extremely well-crafted with a high level of detail.
The opening mechanism is tight, and I would not suggest loosening it.  The tight friction is a safety feature that prevents it from accidentally opening or closing.  This knife features a blade made from V-Toku2 tool steel, with a blasted flat.  The handle is black G10, with brown wood grain Micarta inlays on both sides.  There is no pocket clip.  The handle is ready for a lanyard, which would certainly provide a better grip of the tool.  I think you'll find yourself reaching into your pocket for this beauty more times than you think.  And it is certainly less likely to intimidate anyone, than something you might have clipped to your pocket.  Comes in a Koch Tools snap pouch, with two (2) Koch Tools stickers.  It is in excellent, previously owned condition.  There is a barely perceptible rub towards the tip of the blade, on the presentation side.  I don't think you can even make it out in any of the close-up pictures. 

Condition:   Previously owned.  Excellent.

Overall length:  3 1/2"
Blade length:    1 1/2"
Closed length:  2"