Les Voorhies IKBS Flipper #001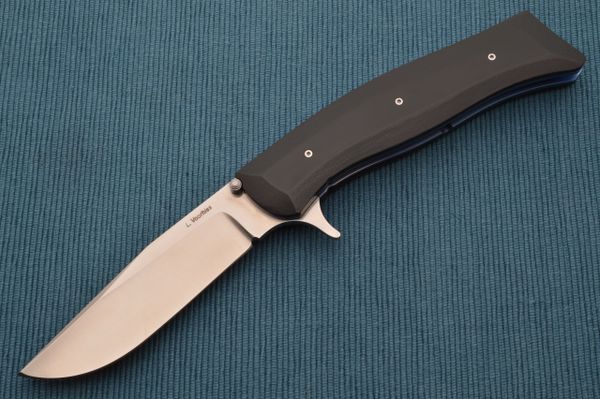 Les Voorhies IKBS Flipper #001
Les Voorhies is an incredibly talented custom knifemaker from Minnesota who makes balisongs, flippers, high-end art folders, and some fixed blades.  Les started making knives in 1994, with his first knife constructed from a power hacksaw blade and some spare Cocobolo wood.  With some mentoring, he began knifemaking as a hobby, but eventually went full-time in 2005 when he lost his job as an aircraft mechanic.
This is Les' flipper IKBS #001 and is marked so on the spine of the blade.  It features a satin finished, CPM154 stainless steel blade and black G-10 scales.  The liners are 0.08" thick, blue anodized titanium.  There are three (3) blue anodized stand-offs.  And it obviously has an IKBS pivot system.  In addition to the flipper tab, there are also dual thumbstuds, so it can be opened right-handed or left-handed.  The blade flips opens smoothly and with authority.  It locks up tight without any blade play.  The blade sits centered between the liners when closed.  It did not come to me with a case, but I will make sure it includes some kind of sleeve or pouch for storage/carry.  
Condition:  Previously owned. Excellent.
                  Never used, carried or sharpened
Overall length:       10"

Blade length:          4 1/4"

Closed length:        5 3/4"