Medford Knife and Tool BURUNG Karambit, Bronze Titanium Frame, Vulcanized Blade (SOLD)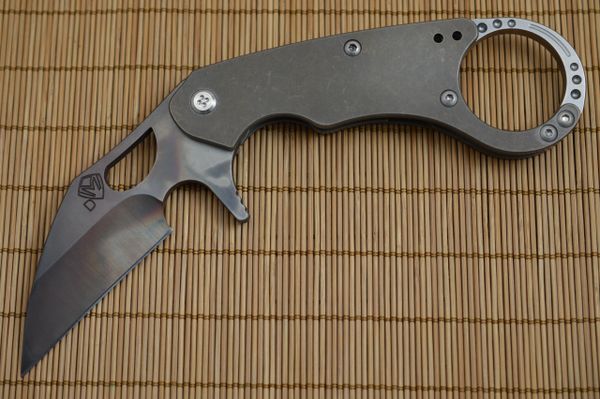 Medford Knife and Tool BURUNG Karambit, Bronze Titanium Frame, Vulcanized Blade (SOLD)
The frame-lock Burung is one of Medford's newest additions to their product line. Medford has taken the Karambit, an Asian-inspired EDC folding knife, to the next level with a fresh design that includes a button head pivot screw, a Medford-unique safety ring, and an aggressive Wharncliffe-shaped, shark-like straight edge blade. If you have a craving for a Karambit-style knife, this is the one for you. In typical Medford fashion, this overbuilt beefy folder is still an all-around easy every day carry.
This Burung is brand new and direct from Medford Knife and Tool. Windy City Knives is a proud member of the MKT authorized dealer network. The Burung is a tactical karambit with a flipper, and needs just a little flick of the wrist to open. The Warncliffe style blade also has a thumb hole for opening. The blade is D2 tool steel, and this one has a Vulcanized finish. The handle frame is bronze anodized titanium, adding a very cool look with the vulcanized blade. The finger hole has a inner diameter of 1 1/4", so it should fit just about anyone's grip. And the Burung has a tumbled stainless steel pocket clip. The handle is designed to be comfortable in both forward and reverse grips. The knife has dead center blade seating and rock solid lock-up.

Comes packaged in a Medford Knife and Tool hard shell plastic case with metal dog tag, instruction sheet, bubble packaging, and Medford cardboard box. Please note that MKT ships their knives coated with a little oil. It may be evident in some of the pictures.
Condition: Brand new from the maker.
Overall length: 7 1/4"

Blade length: 3 1/2" (2 1/2" cutting edge)

Closed length: 5"