Medford Knife and Tool FAT DADDY TFF-1, Thick Version, Uniquely Flamed Titanium Handle (SOLD)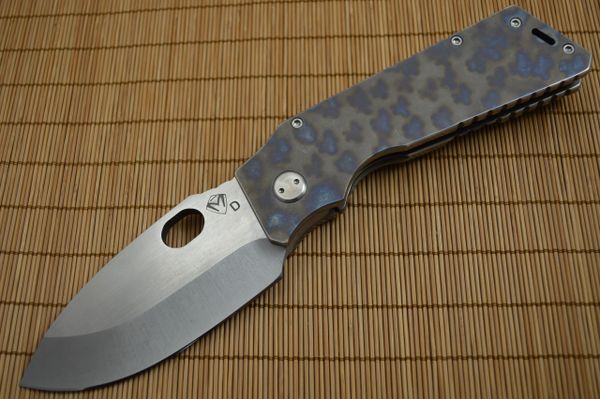 Medford Knife and Tool FAT DADDY TFF-1, Thick Version, Uniquely Flamed Titanium Handle (SOLD)
From the MKT website: "The TFF-1 is the ultimate ambidextrous tactical folder. We developed this knife for military & law enforcement personnel. This design circumvents fixed-blade restrictions and accommodates tactical operators looking for a space-saving knife carry option. This blade is meant to augment or replace a fixed blade and is built for hard use. As with all of the War Fighter Series knives, the non-lock side can either be G10 or Titanium with a Ti locking side. All models have D2 blades and a one-hand deploy, HEAVY liner lock design. The blade is meant to be two-hand stowed and unintentional retraction of the blade is nearly impossible."
This frame-lock Fat Daddy TTF-1 (Tactical Fighting Folder) is brand new and direct from Medford Knife and Tool. Windy City Knives is a proud member of the MKT authorized dealer network. This particular knife with the all titanium frame is part of the MKT "Warfighter Folder Series". It is the more rare "thick version", featuring a D2 tumble finished drop point blade that is 0.26" thick, with a "big belly". Each scale of the full Titanium frame is 0.19" thick, and both it and the spring have a unique "spotted" flamed finish. The titanium frame also has upgraded, custom polished perimeters. The pocket clip is also the new cutout design with the Medford "M", and it too is also anodized. The knife has excellent blade seating and solid lock-up. This is a beast of a folder, capable of handling any job you throw at it.
Comes packaged in a Medford Knife and Tool hard shell plastic case with metal dog tag, instruction sheet, bubble packaging, and Medford cardboard box. Please note that MKT ships their knives coated with oil. It may be evident in some of the pictures.
Condition: Brand new from the maker.
Overall length: 9 1/2"

Blade length: 4"

Closed length: 5 1/2"
Weight: 13.4 oz