Medford Knife and Tool Micro Praetorian T, Custom American Flag Artwork (SOLD)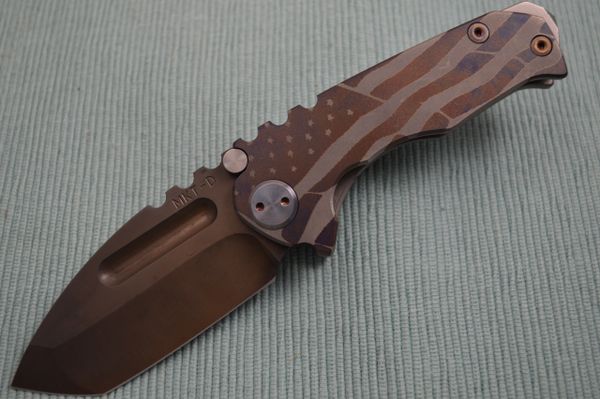 Medford Knife and Tool Micro Praetorian T, Custom American Flag Artwork (SOLD)
From the MKT website: "The Micro Praetorian T is 2/3 the size of the standard sized Praetorian T. This chunky knife offers the same blade and scale thickness as its larger counterpart. You can slip this beefy little monster into smaller pockets, with the same nasty grip and punch of its big brother. So, if you're looking for a smaller version of the Praetorian T you already own, or just want a smaller chunky folder, this knife is definitely for you!!"
This frame-lock Micro Praetorian T is brand new and direct from Medford Knife and Tool. Windy City Knives is a proud member of the MKT authorized dealer network. The knife features a D2 vulcan finished Tanto grind blade, and full Titanium frame with custom American Flag artwork engraved on the handle. The pocket clip and hardware (including the pivot pin) have been anodized flamed. It includes a D2, NP3 coated tempered-glass breaking pommel, tested by MKT to be dependable and 100% functional. This is an emergency lifesaving feature and not for ornamental appeal - wear hand and arm protection if testing. The knife has excellent blade seating and solid lock-up. For one-handed opening instructions from Greg Medford, you can refer to his YouTube video...The Low Down On One-Handed Opens.
Comes packaged in a Medford Knife and Tool hard shell plastic case with metal dog tag, instruction sheet, bubble packaging, and Medford cardboard box. Please note that MKT ships their knives coated with oil. It may be evident in some of the pictures.
Condition: Brand new from the maker.
Overall length: 6 3/4"

Blade length: 3"

Closed length: 3 3/4"
Weight: 4.9 oz