Medford Knife and Tool Praetorian Genesis T, Flamed Titanium Handle, 3V PVD (SOLD)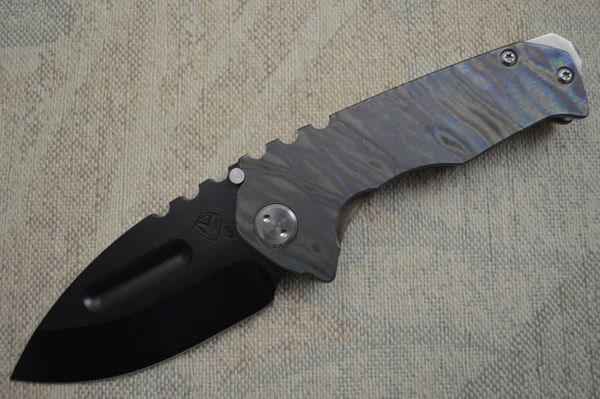 Medford Knife and Tool Praetorian Genesis T, Flamed Titanium Handle, 3V PVD (SOLD)
This frame-lock Praetorian Genesis T is brand new and direct from Medford Knife and Tool. Windy City Knives is a proud member of the MKT authorized dealer network. The knife features a 3V PVD coated drop point blade with a polished spine, and full Titanium frame with a custom flamed finish. Both the 3V steel and the polished blade spine are custom upgrade options from MKT. The flaming of the titanium scales is beautifully done in a "tiger striped" pattern. It includes a D2, NP3 coated tempered-glass breaking pommel, tested by MKT to be dependable and 100% functional. This is an emergency lifesaving feature and not for ornamental appeal - wear hand and arm protection if testing. The knife has excellent blade seating and solid lock-up. The knife has a strong detent. For one-handed opening instructions from Greg Medford, you can refer to his YouTube video...The Low Down On One-Handed Opens.

Comes packaged in a Medford Knife and Tool hard shell plastic case with metal dog tag, instruction sheet, bubble packaging, and Medford cardboard box. Please note that MKT ships their knives coated with oil. It may be evident in some of the pictures.
Condition: Brand new from the maker.
Overall length: 7 1/2"

Blade length: 3 1/2"

Closed length: 4"
Weight: 6.7 oz