Medford Knife and Tool SHERMAN, D2 Tumbled Blade, Flamed Titanium Pineapple Grenade Handle (SOLD)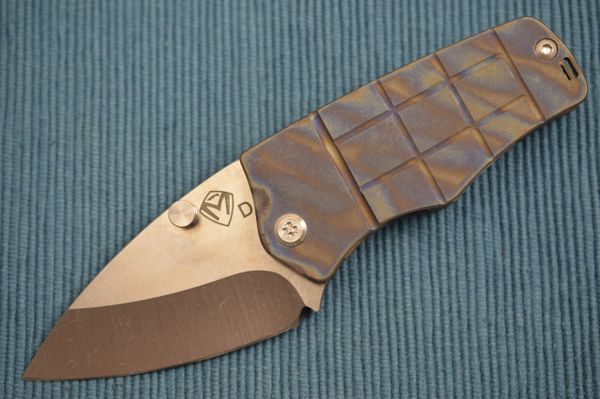 Medford Knife and Tool SHERMAN, D2 Tumbled Blade, Flamed Titanium Pineapple Grenade Handle (SOLD)
Named after the M4 Sherman, this petite yet robust knife really packs a punch.  The unique pineapple Grenade handles are not only visually and tactically appealing, but provide an excellent grip.  The button head pivot screws and delicate clip add a level of sophisticated elegance to this otherwise ruggedly stout folder.  Whether you are in the office or out in the field, this little beauty will serve you well.
This Sherman is brand new and direct from Medford Knife and Tool.  Windy City Knives is a proud member of the MKT authorized dealer network.  The knife features a D2 tumble finished drop point blade, with a flame anodized titanium handle and spring (lock side).  The Pineapple Grenade handle has what looks like a faux bolster.  Both the clip and hardware are titanium, as well.  The knife has centered blade seating and solid lock-up.  The knife has a strong detent.  For one-handed opening instructions from Greg Medford, you can refer to his YouTube video...The Low Down On One-Handed Opens.

Comes packaged in a Medford Knife and Tool hard shell plastic case with metal dog tag, instruction sheet, bubble packaging, and Medford cardboard box.  Please note that MKT ships their knives coated with a little oil.  It may be evident in some of the pictures.
Condition: Brand new from the maker.
Overall length:   6"

Blade length:     2 3/4"

Closed length:   3 1/4"