Michael J. Smith XL "Seeker" Liner Lock Folding Knife (SOLD)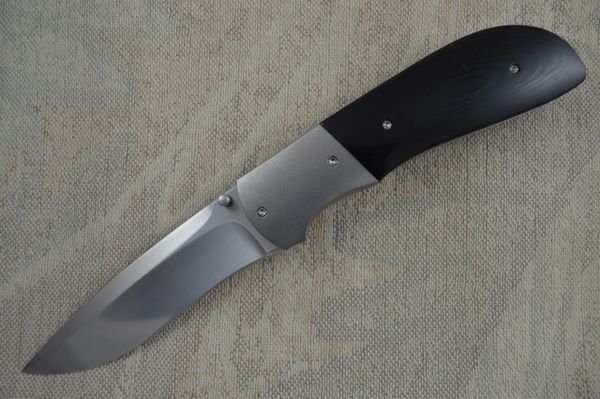 Michael J. Smith XL "Seeker" Liner Lock Folding Knife (SOLD)
Michael J. Smith XL "Seeker" model. A rare and hard to find tactical knife from an in-demand maker. Michael is not currently taking orders. He has been making knives since 1987, and been a full time maker since 1995. He makes all of his knives by hand. He does not use any machines, or job-out any of his work. His fit and finish is outstanding. Michael makes both high-end folders and more tactical EDC knives. The Seeker is one of his more popular tactical blades. For those of you who like BIG folders, this is the ticket. It measures 10" when opened! The handle scales are 20+ year old G10 (and according to Michael, way cooler than today's G10), the blade has a satin finish, and the bolsters and pocket clip are textured. The use of alternating large and small standoffs give a great look to the top side of the handle. Michael marked the blade on the spine of the blade, between the bolsters, giving the knife a very clean appearance. It is buttery smooth, has an early lock-up, tight with no blade play whatsoever, and the blade falls dead center in the handle when closed.
Condition:
Previously owned, Mint
Never carried, used, or sharpened
Overall length: 10"

Blade length: 4 3/4"

Closed length: 5 1/2"