Michael Zieba Custom S5 "DEIFIC MASK", Damasteel Blade, Laser Etched Frame-Lock Flipper Knife (SOLD)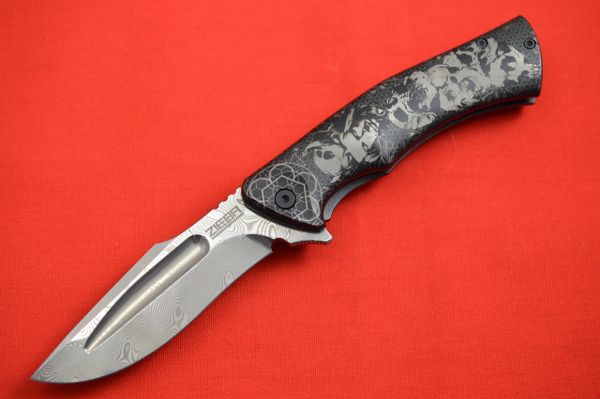 Michael Zieba Custom S5 "DEIFIC MASK", Damasteel Blade, Laser Etched Frame-Lock Flipper Knife (SOLD)
This is Michael Zieba's model S5 "DEIFIC MASK" frame-lock flipper.  It features a highly polished aggressive compound ground, harpoon shaped Damasteel blade.  The blade is marked "ZIEBA" on the presentation side, and "KNIGHT KNIVES" on the lock side.  The S5 model was co-designed with Mastersmith Jason Knight.  The blade flips smoothly and with authority without any wrist action, credited to the ceramic ball bearing washers.  The knife also has a ceramic detent.  The full titanium handle / frame is anodized and etched with Michael's skulls and masks theme on both sides.  There are air pockets in the frame to lighten the load.  The tip-up mounted pocket clip is titanium, anodized and etched with the words "Per Aspera ad Astra".  The knife also features custom titanium hardware.  The inside of the backspacer has the words "memento mori" etched into it.  The solid silver backspacer is a series of skulls with devil horns, with brass wings at the end of the butt.  The knife has excellent detent, rock solid lock-up, no lock-stick, and the blade sits dead center in the frame.  Michael's fit and finish are second to none.  This knife is brand new, direct from Michael at Blade Show Texas 2022.  This Michael Zieba original design knife comes in a Zieba padded zippered case, along with Michael's signed Certificate of Authenticity, Zieba polishing cloth and Zieba sticker.  It is Sold Out on Michael's website.
Condition:  New from the Maker
Overall length:   8 1/8"




Blade length:      3 5/8"




Closed length:    4 1/2"